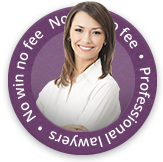 A Long Established Firm of Personal Injury Lawyers
First Personal Injury is a long established firm of lawyers who are specialists in our legal field. Our team have years of experience in personal injury claims and have won justice and compensation for many thousands of people all over the country. We deal with all levels of accident and injury claims – from minor to catastrophic – and will take care of you every step of the way. The reputation of our lawyers is something we are very proud of and your compensation claim will be in the safest hands.

Making An Accident Claim
Contact our team of highly experienced personal injury lawyers today to discuss your potential accident claim and find out about claiming personal injury.