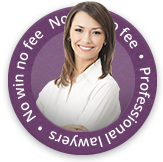 Personal Injury and Accident Claims Case Studies
We help people to make successful claims for compensation on a regular basis. We've detailed below some of our success stories to give you an idea of how we could help you win your case.
Slip Trip Fall Accident Case Study
Mrs D was walking in a pedestrian area when she tripped on an uneven paving stone on the pavement and fell over in August 2010. A claim was brought against the Council who were responsible for the area. Mrs D sustained bruising and soft tissue injuries to her face, knee and leg and was expected to be fully recovered from her injuries within one year of the date of the accident.
Mrs D received damages of £2000 which included a 15% reduction for contributory negligence as she should or could have noticed that the defect was present.
If you have suffered as a result of a slip, trip or fall, contact our team today to make a claim.
Road Traffic Accident Case Studies
Mr C was injured in a Road Traffic Accident that occurred in May 2008. The Defendant was driving a lorry which was leaking oil over the road and caused Mr C to skid and fall off his bicycle. Mr C sustained a serious dislocation injury to his shoulder requiring steroid injections and eventually surgery. Due to his specialized physical job, Mr C was unable to work for three years following the accident.
Total damages received were £65,000 including £10,000 for his injury and the remainder including compensation for his loss of earnings, loss of pension, property damage, loss of shares and medical costs associated with his injury.
Mr D was a passenger in a taxi which was involved in a road traffic accident when the Defendant entered a roundabout and hit the side of the taxi in which he was travelling . Mr D suffered whiplash and soft tissue damage in his back, neck and arm. Mr D's injuries lasted for approximately 9 months. He was assisted in his recovery by physiotherapy.
Mr D received damages of £2800.
If you have been involved in road traffic accident and want to make a claim, contact our team of injury lawyers today.