2013 was a rough year for cyclists in London, with no end of controversy. With proposed measures in place for an elevated cycle highway and calls for increased safety for cyclists, what does the future hold for biking commuters in the big city?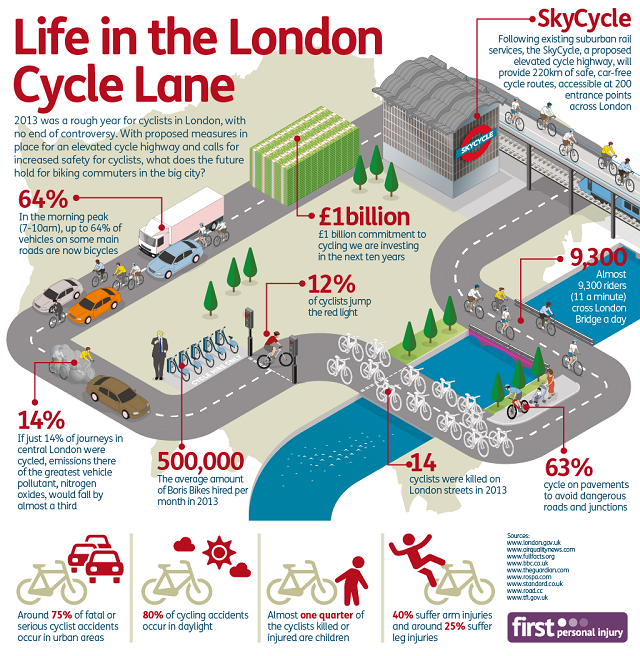 Share this Image On Your Site
Please include attribution to First Personal Injury with this graphic.

SkyCycle
Following existing suburban rail services, the SkyCycle, a proposed elevated cycle highway, will provide 220km of safe, car-free cycle routes, accessible at 200 entrance points across London.
London Cycling Statistics
Here are some useful cycling statistics affecting London cyclists:
In the morning peak (7-10am), up to 64% of vehicles on some main roads are now bicycles
12% of cyclists jump the red light
£1 billion – that's the commitment to cycling we are investing in the next ten years
9,300 – Almost 9,300 riders (11 per minute cross London Bridge a day)
63% of cyclists cycle on pavements to avoid dangerous roads and junctions
14 cyclists were killed on London streets in 2013
500,000 – That's the average amount of Boris Bikes hired per month in 2013
14% – If just 14% of journeys in Central London were cycled, emissions there, of the greatest vehicle pollutant, nitrogen oxides, would fall by almost a third.
Cycling and Injuries
Around 75% of fatal and serious cyclist accidents occur in urban areas
80% of cycling accidents occur in daylight
Almost one-quarter of the cyclists killed or injured are children
40% suffer arm injuries and around 25% suffer leg injuries