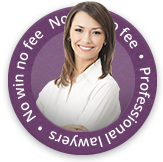 If you have injured your back as a result of an accident that wasn't your fault you may be able to make a claim for personal injury compensation.
Potential accidents
There is the potential to injure your back in any number of accidents. Many compensation claims for back injury occur as a result of one of the following types of accident:
Back Injuries Following Road Traffic Accidents
One of the most common injuries after a road traffic accident (RTA) is whiplash. This is an injury where the neck or cervical spine is injured by your head being thrown forwards and backwards due to the impact caused involved in a crash.
As well as causing symptoms to the neck, whiplash can result in back pain.
Whiplash is not the only back injury you may suffer following an RTA, however. Injuries to your lower and mid back are also quite common in a car accident due to the large forces which come into play. This can happen even when a seatbelt is correctly used by both driver and passenger.
Injured Back From Accidents at work
Serious back injuries can often be suffered by those who are required to perform heavy lifting at work. This is covered by the Manual Handling Regulations and various UK Health and Safety Laws ensuring you may be able to make a claim against your employer in the event of injury for example, if you have not had sufficient training on how to lift heavy objects, and as a result you sustain an injury to your back.
Injuring Your Back From Slips and Trips
Back problems are just one of the many injuries that can occur following a slip, trip or fall.
Back Injuries From Clinical Or Medical Negligence
Operations on the spine are extremely complicated. If these are not performed correctly and injury is suffered you may be able to make a personal injury compensation claim.
Making A Claim
If you have suffered a back injury following an accident you should immediately contact personal injury solicitors with experience, knowledge and success in this area of the law.
The following is just a guide to the potential levels of compensation for pain and suffering following a back injury:
Least severe back injuries; back strain or muscle injury lasting for more than a few weeks, but with no lasting symptoms – £1,000 – £5,000
Minor back injury; involving a strain, muscle injury or prolapsed disc (surgery is not necessary) with pain lasting between two and five years – £5,000 – £8,000
Moderate back injury: prolapsed discs requiring surgery, spinal fusion and crush fractures of the spine – £8,000 – £25,000
Serious back injuries; resulting in paralysis, sexual difficulties, organ problems – £25,000 – £110,000
Additional compensation
If you have successful back injury compensation claims it is likely that you will also be awarded further damages for financial losses and expenses. This may include loss or earnings, and expenses accrued for medical care, help in the home, and travel amongst others.