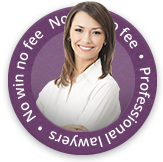 The back is described as broken when there has been damage to one or more of the individual vertebrae at the back section of the spinal column.
Compensation amounts for a broken back vary widely because the injury can have different implications in terms of future ability to work, walk or even move limbs at all in some cases.
Broken Back Compensation Amounts
How Do I Start My Broken Back Compensation Case?
Please call our experienced and helpful team today and we can help guide you through the initial stages of making your claim right through to claiming the compensation you deserve. Call us on 0800 808 9740.
£65,000 to £115,000 is the amount reserved for injuries which involve severe spinal cord and nerve root damage where a patient has experienced extreme pain, disability and some degree of incomplete paralysis. Other side effects may be dysfunction of the bowel or bladder
Other cases which are not considered as serious as the above, yet have certain features which make them not applicable to lower brackets, are those where there has been nerve root damage, loss of sensation, lack of mobility and reduced function of the bowel and bladder. These cases see claimants in receipt of approximately £53,000 up to £63,000
Some injuries like disc lesions or fractured discs can lead to severe pain and lack of mobility, which can also lead to psychological damage and personality changes in some cases. The amounts related to these cases range from £27,700 up to £49,800
Moderate cases see victims of back injuries claiming between £19,850 and £27,700. These cases usually include individuals who have suffered compression or crushing injuries. Often there is the possibility of osteoarthritis occurring in some cases
Ligament and muscle damage is a common kind of back injury which attracts compensation amounts of around £8,900 to £19,850. Cases often involve those who have prolapsed discs or soft tissue injuries
Minor back injury cases begin at £5,600 and can go up to £8,900
If there is a probability of a full recovery without the need for surgery within two years of sustaining the injury, £1,500 up to £5,600 can be anticipated in most cases
If your recovery period is a few days then £1,500 is what you can expect to claim compensation for
Your claim will need to be made within 3 years of you having your accident so we recommend that you speak to a personal injury accident lawyer at your earliest convenience. He/she will be able to give you a better indication of how much compensation for your back injury in relation to your specific circumstances.