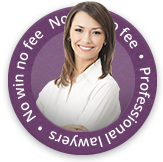 If you have suffered a foot injury from an accident that wasn't your fault you may be in a position to make a claim for personal injury compensation.
Foot injury compensation claims
An injury to your foot can arise in many different incidents. Whether you've been involved in a road traffic accident, injured your foot at work, or following a slip, trip or fall on public or private property, you may be eligible to make a claim for personal injury compensation if the accident was someone else's fault.
For example, for a foot injury caused during an accident at work to lead to a successful claim, it would need to be proven that your employer breached their duty of care towards you or that another employee was at fault. In terms of claiming after a car accident, it would need to be proven that another person was responsible for the accident which caused your injury.
Making a claim
If you believe that you are eligible for personal injury compensation for your foot injury you should contact personal injury solicitors with experience and knowledge in this area of the law. They will initially analyse your claim and will make a judgment both on the potential success of the claim and the levels of compensation likely to be awarded.
Types of compensation
There are two main types of compensation your solicitor may be able to claim on your behalf for a foot injury:
Pain, suffering and loss of amenity
For every successful personal injury claim, damages for pain, suffering and loss of amenity will be awarded. This is designed to compensate you purely for the injuries suffered and will be based on previous case law involving similar accidents.
Your solicitor will examine this case law and advise you on the potential levels of compensation you can claim for.
Financial losses
When you suffer a foot injury, it's likely that you'll suffer some level of financial loss. This could include time off work recovering from your injuries, medical or travel expenses. Whatever expenses have been incurred as a result of your injuries, these can potentially form part of your claim.
Levels of compensation
The following is a guide as to the potential levels of compensation awarded for a foot injury (pain and suffering):
Simple fractures or lacerations etc – up to £4,300
Serious fractures and injured tendons – up to £16,400
Very severe injuries including Fusion of foot joints and broken heels – up to £55,000
Amputation of the foot or front of the foot – up to £72,00