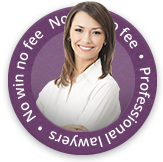 If you have suffered personal injury following a slip or trip that wasn't your fault you may be able to make a personal injury compensation claim.
Slip or trip
There are a number of circumstances by which a slip or trip can occur. The following is just a quick guide as to the occurrence of this form of accident:
Injured yourself on a slippery floor that wasn't signposted
Tripped on a pavement that was uneven or broken
A child slipping or tripping on faulty playground equipment (in this case the claim would be brought on behalf of the child)
Slip or trip in a supermarket
Personal injury compensation claim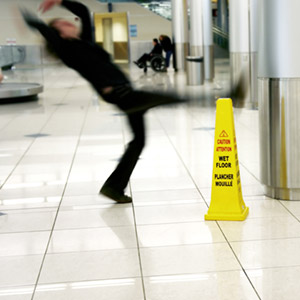 If you have been injured after slipping or tripping in circumstances that weren't your fault you should immediately contact personal injury solicitors with experience in this area.
Often claims in this manner can involve legal intricacies, so to stand the best chance of securing the compensation you deserve it's vital you seek the help of expert solicitors.
At fault
In order for your claim to be successful it will need to be proven that someone was at fault for your injuries. For example if you slip on a wet surface in a supermarket, there will only be liability on the part of the supermarket if there was no sign. If there was a sign it would be assumed that a reasonable person would not walk there, or would take more care.
In relation to a claim against a local authority following a trip on a paving slab or pothole, for the claim to be successful it would need to be proven than the stone was sticking up by an inch or the hole was the same depth.
Levels of compensation
A number of potential injuries could be caused following a slip, trip or fall. The following is intended as a guide to those injuries and the levels of compensation.
Fractured cheek bone with quick recovery – £1,500 – £2,000
Serious fractured cheek bone – up to £10,000
Fractured jaw with quick recovery – £4,000 – £5,500
Serious fractured jaw – up to £29,000
Lost or damaged front tooth – up to £2,500
Several Lost or damaged front teeth – up to £7,300
Minor fractured wrist – £2,000 – £3,000
At fault
If for example, a floor is wet, or a paving stone dangerously uneven, there will only be a liability if those circumstances have existed for a period of time beyond which warning signs should have been placed, or the problem rectified.
Personal Injury Claims with First Personal Injury
First Personal Injury has built up a reputation across the United Kingdom for their approach in personal injury claims. Working with members of the public who have had personal injuries, First Personal Injury exceeds customer expectations.
Contacting First Personal Injury is free by calling 0800 808 9740 alternatively by filling out the online claims form.
How much compensation for a slip depends mainly on the extent of your injuries. There are a range of different kinds of injury you can sustain following a slip. Below are some of the most common kinds of resultant injury and the level of compensation you can expect.
Common Kinds Of Slip Injuries
Shoulder injuries include a fractured clavicle which starts a £3,650 and goes up to £8,700. A severe shoulder injury associated with neck injuries and damage to the brachial plexus sees compensation settlements of £13,700 up to £34,300
Arm injuries that are deemed severe could see claimants obtain from £68,750 up to £93,500. These are cases which have usually been fortunate to slimly avoid amputation. Simple fractures, on the other hand, range from £4,750 up to £13,700
Facial damage can often involve disfigurement which will be factored into a compensation amount and there may also be psychological damage. Simple displaced fractures with full recovery will range from £1,225 up to £1,800. On the highest end of the bracket you may have suffered a le fort fracture of frontal facial bones and you will receive from £17,000 up to £26,250
A fractured cheekbone is classed usually as facial damage. If your injury has resulted in serious fractures of the cheekbones and lasting parasthesia then your compensation figure could range from £7,300 up to £11,285. Alternatively, if your injury has been a simple fracture of the cheekbone and there has been no surgery necessary then you can expect around £1,680 up to £2,125
Broken jaws can be extremely debilitating and as such your compensation amount could go up to £32,500 if you have experienced a serious multiple fracture, had prolonged treatment and paraesthesia is also apparent. Simple jaw fracture compensation amounts range from £4,600 up to £6,250
Broken teeth compensation amounts vary according to which teeth have been damaged and how it has affected you. Up to £27,250 can be awarded for those who have had significant tooth pain which has lasted a number of years. Loss of back teeth starts at £780 and goes up to £1,225; loss or serious damage to front teeth is from £6,250 to £8,150
Head injuries can be extremely serious and have life-time consequences for victims and their families. If your head injury has meant you have suffered brain damage then you can expect to receive from £201,500 up to £288,500. Moderate brain injuries are from £156,750 to £201,500. On the lower end of the bracket £1,575 up to £9,100 is granted for minor head and brain injuries
Making Your Slip Injury Claim With First Personal Injury Lawyers
If you would like more information on how much compensation for a slip then please get in touch with us today and our team will be able to speak to you more about your specific details. Call us on 0800 808 9740.