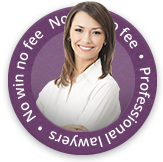 A broken ankle can prevent you from taking part in many everyday activities including being able to work. Most broken ankle injuries can put a stop to your physical abilities on a temporary basis but sometimes the injury can leave you with lasting damage.
If a third party has caused your accident then it's possible you can make a personal injury claim. The amount of compensation you will receive depends mainly on the extent of your injury.
Below are some common kinds of broken ankle injuries which will provide an indication of how much compensation for a broken ankle.
Compensation Amounts For Broken Ankle Injuries
If you have had a modest injury to your ankle then you can expect to receive up to around £9,800. Injuries classed as modest are those where there has been a minor displaced fracture, sprain or ligament injury. Amounts vary depending on whether or not you have had a full recovery and if there is a permanent weakness, scarring or discomfort
If there is a complete recovery from a modest injury then it is probably that your settlement fee will not be above £5,500. Lower amounts are granted for injuries which have been resolved within a short period of time
Moderate ankle injuries include fractures, ligament tears or those which cause difficulty walking or standing. Scarring and the risk of osteoarthritis can also be present in these cases. Compensation amounts are usually £9,800 up to £19,000
If there has been a long period of treatment for your broken ankle injury or your ankle has been in plaster for a long time then it then this puts limits on your ability to walk. In these cases, you will be granted from £22,350 up to £35,750 depending on the extent to which your sleep has been disturbed, how your employment prospects have been affected and/or if you have had to wear special footwear
Very severe ankle injuries are those which result in deformity, amputation below the knee; if both ankles have suffered degeneration of the joints at a young age and whether or not arthrodesis has been necessary. These cases are not everyday occurrences but when they do happen, compensation amounts are between £35,750 and £49,800
How Do I Begin My Broken Ankle Compensation Case?
If you would like further information on how much compensation for a broken ankle then it is advisable to get in touch with a personal injury lawyer (such as our team of solicitors at First Personal Injury) so you can speak about your case in finer detail.
First Personal Injury Lawyers can help you with your personal injury and accident claims. Please contact our team today on 0800 808 9740 so we can discuss your circumstances in more detail.
Making Personal Injury Claims
If you've had a personal injury, you may be entitled to compensation. The solicitors at First Personal Injury are on hand to assist you and help you win the compensation you're entitled to.
Contact First Personal Injury today to make an accident or injury claim for compensation. Get in touch by ringing the number above or by filling out our online form.