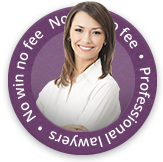 If you have suffered a knee injury following an accident you may be entitled to make a claim for personal injury compensation.
Accidents
Knee injuries can be caused by any number of accidents. You may have suffered a bad tackle playing football, fallen on a cracked pavement or pothole, suffered a road traffic accident (RTA) or injured it whilst at work.
However the injured occurred, if you are to make a successful claim for personal injury compensation it will need to be proven than another person (or company) is legally at fault for your injuries.
Personal injury solicitors
In order to be able to claim for the compensation you may deserve, it's vital that you contact personal injury solicitors with experience in this area of the law.
Making a claim can be complicated, in some case involving medical evidence and witness statements. An experienced team of solicitors ensures you'll be given the best chance of securing personal injury compensation.
Potential levels of compensation
The following is just a guide to the potential levels of compensation for the pain and suffering following a knee injury:
Other forms of compensation
If your claim is successful there is the potential that you may be awarded further damages for financial losses and expenses. These can include loss of earnings, medical care, help in the home, and travel amongst others.
Twists and painful bruising; with complete recovery within a year – £1,000 – £3,800
Twists with ongoing symptoms; including bruising or ligament damage which has caused permanent ongoing minor symptoms – £3,800 – £9,000
Torn knee cartilage or a dislocation which results in it not being as stable as before the accident occurred – £9,000 – £17,000
Serious knee injuries; including a fracture to your kneecap, tears to the cruciate or collateral ligaments, torn cartilage, little movement in the knee, or knee replacement surgery – £17,000 – £62,000
Personal Injury Claims with First Personal Injury
First Personal Injury has built up a reputation across the United Kingdom for their approach in personal injury claims. Working with members of the public who have had personal injuries, First Personal Injury exceeds customer expectations.
Contacting First Personal Injury is free by calling 0800 808 9740 alternatively by filling out the online claims form.