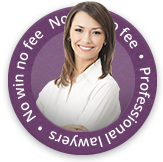 A sprained ankle may also be known as a twisted ankle or and ankle ligament injury.
It is an injury that occurs when one or more of the ligaments in the ankle has been completely or partially torn.
With this condition, the pain you feel is not always indicative of the extent of the damage. To further assist you in finding out how much compensation for a sprained ankle, see the guidelines below that are used to calculate compensation amounts.
Compensation Brackets For Sprained Ankle Injuries
A sprained ankle falls into the category of a modest ankle injury along with other ligamentous injuries and undisplaced fractures.

I am delighted with the outcome of my claim and can't thank you enough for all the hard work that you put in. Everything went so smoothly and all I had to do was sign some papers and everything was taken care of. Anytime I had any concerns I knew I could call and my mind was always put at rest. You can never know how much this means to me and I am so grateful. If anything ever happened to me again then I would come straight to you.
L Smith from Lincoln
See more testimonials
One of the main considerations will be how long a recovery has taken, if at all. The future strength of the ankle will also be taken into account and if there has been aching or scarring involved with the sprain.
Osteoarthritis can appear alongside some ankle injuries so this will also have to be factored in and any other loss of movement due to the injury
Up to £5,500 is generally granted if your recovery has been complete and there have been no long-term symptoms
If you have had a recovery which has been reached within a year then compensation amounts will not usually exceed £3,925. If your modest injury is resolved within a short space of time then the amount will be lower
Settlement fees within this bracket will not normally exceed £9,800
Making Your Sprained Ankle Injury With First Personal Injury Lawyers
There is no set amount given in relation to ankle injuries; each case depends on your individual circumstances and how the injury has affected you. If the injury was not your fault and you have not been able to work and/or your everyday life has been impeded then you may be able to make a personal injury accident claim.
For more information on how much compensation for an ankle injury please contact our experienced team of injury lawyers on 0800 808 9740.