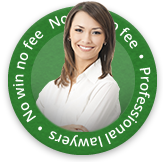 Whiplash Injury Compensation
Whiplash is one of the most common injuries resulting from road traffic accidents. The condition is caused by the sudden impact of a road accident when the head is thrown back very quickly and violently. The after effects can be distressing. Car crash victims often suffer whiplash injuries which can include varying degrees of neck pain, stiffness, headaches and shoulder and back pain.

Joanne Waring has been exceptional throughout, keeping myself updated on a regular basis.  Personal approach with guidance when required.
P Wilshaw from Manchester
See more testimonials
Whiplash accident? Here's how we can help
Whiplash can disrupt your life. Sometimes the discomfort of the injury can last for a prolonged period and make life difficult and painful. When an accident was someone else's fault, it's your right to claim compensation. This is where we come in. We'll take care of your accident claim and make sure you're free to concentrate on getting back to full health. We'll organise all the paperwork involved in making a claim and use our personal injury expertise to get you the full accident compensation you're entitled to. Whether your injury is minor or severe, we'll make sure you receive the compensation that's rightfully yours. Remember, it's your civil right to make a claim when you're involved in a road traffic accident. Start your whiplash injury claims now and we'll put you back in the driving seat as soon as possible.
What Is Whiplash?
A whiplash accident occurs when one motor vehicle strikes another causing various forces to be transmitted from the striking vehicle to the one which has been struck. These forces will then in turn be transmitted to the occupants of the vehicle, where they have the potential to cause an injury of this type. These types of injury are associated with road traffic accidents however you should note that whiplash type injuries can be sustained with any accident that involves trauma to the neck, shoulder or back.
Neck swelling
Decrease in neck, back or mobility headaches
Making Whiplash Claims For Compensation
Our team of personal injury lawyers is highly experienced in helping people who have been involved in many types of accidents claim compensation. Contact us today regarding your prospective personal injury compensation claims case, in confidence.
Making Personal Injury Claims
If you've had a personal injury you may be entitled to compensation. First Personal Injury solicitors will help assist your prospective claim and help further win your compensation if you're entitled to it.
Contact First Personal injury today regarding making an accident or injury claim for compensation by ringing the number above alternatively by filling out the online claims form.