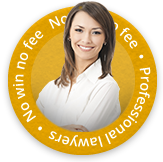 Considering Making A Claim For An Eye Injury At Work?
If you have decided to make a claim for an eye injury at work then the reason for your claim could be down to any one of a number of accidents possible in the workplace.
Experiencing An Eye Injury At Work
The nature of your eye injury at work largely depends on the type of job you do. Dusty working environments are one of the types of workplace where eye injuries are most common. Places where employees work with harmful or dangerous chemicals or with power tools also have an increased risk of eye injury.
Your employer should provide you with PPE (Personal Protective Equipment), for example, safety goggles. If they fail to do this and you have an injury to your eye, they would be responsible for your accident.

I am delighted with the outcome of my claim and can't thank you enough for all the hard work that you put in. Everything went so smoothly and all I had to do was sign some papers and everything was taken care of. Anytime I had any concerns I knew I could call and my mind was always put at rest. You can never know how much this means to me and I am so grateful. If anything ever happened to me again then I would come straight to you.
L Smith from Lincoln
See more testimonials
Common Eye Injury At Work Claims
Below are some of the most common kinds of workplace eye injury claims:
Electric shocks
Grit or foreign particles in the eye
Burns from heat or chemicals
Scratches, cuts, eye irritations
Head injury
Laser eye surgery mistakes
These types of eye injuries can lead to a number of problems including:
total blindness
partial loss of sight,
pain in one or both eyes
detached retina
a scratched cornea
orbital fractures;
blurred vision in one or both eyes and
psychological damage
As well as causing you significant pain and suffering, as a result of your eye injury, you may need visual assistance or time off work. All these elements will be factored into your claim when calculating the settlement amount. As there are time limits which apply to all personal injury claims, including eye injury at work claims, it's advisable to get in touch with a personal injury solicitor as soon as you can.
Claiming Eye Injury At Work Compensation
Claiming compensation for an eye injury at work is made as easy as possible with First Personal Injury. For years, our lawyers have helped clients with many different types of workplace accident claims, including eye injury claims. For more information, please get in touch with us on our national accident helpline, 0800 8080 9740, or complete one of our online claim forms.
Other Claims For Accidents In Work
Here at First Personal Injury, we deal with a wide range of accident at work claims. If you have been injured in the workplace from an incident not listed below, feel free to get in touch anyway. We may still be able to help and advise regarding your claim for compensation.