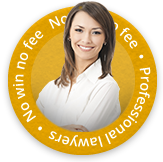 You might not think of injuries or accidents when you think of working in an office the way you would when thinking of a construction site, a factory, or a warehouse. However, office injuries are more common that you would think. In fact, many office accidents result in serious injuries.
Common Accidents in the Office Workplace
Common office hazards include wet floors without signage, stray cords in your path, and wearing high-heeled shoes when walking on uneven carpets. Electrical appliances like coffee pots, copiers, and printers can cause electrical shocks or burns if the wires get frayed.
In small offices, people have a tendency to stack boxes higher than they should. This can create a hazard when they fall down to the ground. Because of inadequate lighting, people often don't see the boxes or mops or bins placed where they don't belong, they might not see that a box of thumbtacks has spilt onto the tiled floor.
Types of Injuries
Slips, trips and falls are common workplace injuries which result in broken bones, fractures, and dislocated limbs. Generally, they're the result of files or boxes in pathways where people walk and are not expecting obstructions.
Falls from improvised ladders are another common cause of injuries. People sometimes use chairs (on wheels), boxes, and tables when a regular ladder or step stool isn't available, and fractured ankles or other similar injuries can occur as a result.
Seeking Treatment
After an office accident, it is essential that you seek medical treatment immediately to minimise the effects of your injuries. You may think your injuries are minor but x-rays and other tests may show damages you weren't aware of. Also, you may have internal injuries which need to be treated.
Office injuries can cause cuts, bruises, sprains, and broken limbs. You may need physiotherapy or surgery to treat your injuries. Your pain can last from minutes to months, and some pain can linger for years after the injury.
Documenting Injuries
In the event of an office injury, make sure you record your accident in the Accident Log, which is the formal complaint log for your employer. Even if you don't end up filing a claim for compensation, you are required to document the work accident for your employer's records. This documentation serves as a reminder for your employer and co-workers to resolve any unattended or unresolved hazards around the office.
You and your co-workers are responsible, along with your employer, for keeping your workplace safe for the employers, contractors and customers. It is also a good idea for you and your co-workers to ask for training for activities that have more risk of injury, like lifting heavy boxes or using a utility knife to cut open packages.
Contacting a Solicitor
If you've been injured because of an accident in an office, contact a solicitor for advice. You may be eligible to file a claim for monetary damages. Because there are time limits for filing this type of personal injury claim, contact a lawyer as soon as you're able to do so after receiving medical treatment.
Your solicitor will determine if you have a valid accident or injury claim, based on the information you provide about the accident. That's why it's very important that you document your injuries as well as the details about the accident immediately afterwards, while the information is still fresh in your mind. The longer you wait to record the details, the more you will forget. This is also a great time to contact witnesses and have them write down their memories of the incident. The more people you have who can substantiate your version of events, the better.
Talking you through the claims process
Once your solicitor has determined that you have a valid claim, they will begin to walk you through the claims process. They will also answer any questions you may have about the time frame of your claim and how much compensation you could receive. The answers to these questions will depend on the type of injury you have sustained, the treatment and costs required to return your body back to normal – or as normal as possible. Whether or not your employer's insurance company disputes the merits of your claim will also affect your claim.
An experienced personal injury solicitor will be able to help you navigate the complex legal process surrounding accidents in the office. They'll make the process as smooth as possible for you. Although people don't think of office accidents as being common, injuries acquired in the workplace can have devastating effects. Having a specialist personal injury lawyer behind you will mean that you're more likely to receive fair compensation for your injuries.
The process of claiming compensation following an injury can be both lengthy and complex. However, with the help of an experienced personal injury solicitor, the experience will be less daunting and you can focus on regaining your health.