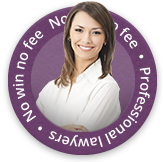 In February 2015, Mo slipped on ice outside his place of work while on a shift delivering newspapers. As he walked out of the office to return to his van, he slipped on ice, injuring his left wrist. Although Mo was wearing work boots, the car park was icy and hadn't been gritted.
Mo immediately reported the accident to his manager. Because his manager was busy, he returned to the office at the end of his shift to record the incident in the accident report book.
Mo went to hospital the following afternoon where an x-ray confirmed that he had broken his left risk. His wrist was put in a cast which he had to wear for 4 weeks. As he was self-employed, Mo continued working until the end of his contract despite his wrist injury but paid a friend to help him deliver the newspapers.
How we helped
Mo contacted the personal injury lawyers at First Personal Injury shortly after his accident at work and we wrote to his employer. They responded by denying responsibility and claimed that the carpark had been gritted prior to his accident.
We didn't believe this to be the case and quickly began to gather evidence to strengthen Mo's claim. Mo's lawyer, Conrad, spoke to his colleague who was with him at the time of the accident and prepared a witness statement. He also requested access to Mo's hospital records injury and instructed a barrister to advise on the claim's prospects.
The barrister reported that the claim had good chances of success. She also confirmed that Mo's employer had failed in its duty of care. It had failed to keep the carpark free from substances (including ice) which may cause someone to slip or trip.
We then set about collecting medical evidence. We arranged for him to be examined by a medical expert, who helped to value Mo's injuries.
In August 2016, we issued court proceedings against Mo's employer. In October 2016, they made an offer of £3,000 to settle the claim, but we believed that this was too low. We made a counteroffer on Mo's behalf and his claim eventually settled for £5,250 in November 2016.
Have you slipped on ice at work or in a public place?
If you have slipped and become injured in an accident that occurred because of someone's else's negligence, you may be entitled to claim compensation. Contact our solicitors today on 0800 808 9740 or get in touch online to arrange a free no-obligation consultation.