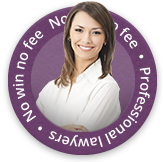 Did you know that wearing a helmet whilst riding your motorcycle reduces the risk of death by a huge 29%? If not, you should really consider putting one on before you take to the road.
Not only does a helmet help reduce the risk of death, but it also helps reduce the risk of serious life-changing injuries – so we would always recommend putting one on whilst riding.
For those motorcycle enthusiasts out there, our expert road and motorcycle accident solicitors have put together a great infographic highlighting some of the more memorable moments in the history of the motorcycle helmet. From its inception right the way to the more modern day designs, you'll find plenty of informative facts about the motorcycle helmet here. Take a look:

Here at First Personal Injury, our expert solicitors have a vast wealth of experience in handling motorcycle accident claims and, in addition, know exactly how devastating these claims can be for the victims and their family. With this in mind, any motorbike accident compensation claim that we are instructed to take on is handled with extreme care, with a focus on making sure your best interests and those of your family are looked after. We fight to ensure you receive the maximum amount of compensation available at all times and that you have access to the very best treatment and rehabilitation facilities available to aid in your recovery. For more information, or to speak to an expert motorcycle injury solicitor, call 0800 808 9740 today and let us help you get the compensation you deserve.