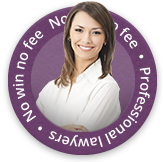 In July 2009, Olga Smart was boarding a plane with her mother when she fell through a gap in the aircraft stairs and fell onto the tarmac below. The three year old was immediately rushed to hospital to receive medical attention.
Since the incident, Ryanair have revised their safety procedures which includes changes to the stair barriers as well as ensuring that specific announcements are made to passengers boarding with young children.
To avoid being accused of negligence, other airlines should follow suit to ensure adequate safety procedures are in place that can prevent any similar accidents involving children happening.
Michael Jefferies, of First Personal Injury stated that "an airline without such safety procedures now that the dangers are known to the airline industry of such steps is negligent and would be liable if a passenger was injured as a result of such negligence."

Make A Compensation Claim
If you feel that you may have cause to make any kind of claim for compensation, you should contact our team of personal injury lawyers on the telephone number above. Alternatively, complete our initial online form and one of our team will come back to you in confidence.
You can find out more about we help people with claiming compensation.