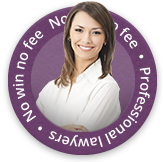 A former bank worker has won £9,000 in an accident compensation claim for the work related accident in which she sustained a fractured ankle.
She is reported to have fallen down a hazardous step will carrying two boxes. The accident meant that the worker had to employ a helper to look after her aging mother and disabled son. She had to take 6 months off work to recover from the accident.
Have You Suffered An Accident At Work?
If you have suffered from an injury at work or an accident in the workplace you may be able to make a claim. Our accident claims solicitors may be able to help.
You could be entitled to an accident claim
You may be entitled to compensation for an range of compensation claims under accident claims. Our expert injury solicitors will help assess your potential claim going forwards and provide you with proficient advice.
Contact First Personal Injury to discuss your potential compensation claim today by ringing 0800 808 9740 or by filling out the online claims form.