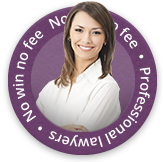 APIL (Association of Personal Injury Lawyers) has said that bereaved families are being forced to attend inquests without legal help because the majority cannot obtain legal aid.
Government reforms to overhaul the coroners and inquests system have so far failed to address the fact that only 21 per cent of families who applied for funding help were successful.
Concerns have also been raised that many bereaved families may not even be aware that they have a right to legal representation when they attend an inquest, even though witnesses attending to explain the cause of death will have an insurance company's paid legal team there to help.
APIL president Amanda Stevens has said that the Government's ˜charter for bereaved people' " its latest move to update the system " must make it clear that bereaved families can seek legal advice for an inquest.
First Personal Injury are APIL Members
You can find out more about making a claim for compensation
Had An Accident Or Injured In The Workplace?
If you've had an accident or injury in the workplace, First Personal Injury may be able to help you to make a claim for compensation.
First Personal Injury are contactable through our online injury claim form where one of our personal injury lawyers will come back to you directly. Alternatively contact First Personal Solicitor on the telephone number above to discuss your prospective case in more detail.