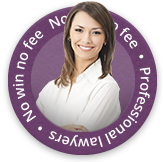 Avoiding An Accident At Halloween
Now the clocks have gone back and the days are beginning to get shorter and darker children in the UK are being advised to wear bright and reflective clothing in order to avoid any accidents or personal injury.
Avoiding Accidents For Children On Dark Nights
It is especially important to avoid any potential accidents involving children this Halloween when children will be playing out in the streets in the dark Parents are urged to make sure they always accompany their children when they are trick or treating, to make sure children are carrying a torch at all times and that they always wear reflective clothing. Children should try to stay close to home and stick known streets in order to remain safe.
Have you been in an accident that wasn't your fault?
If you or someone you know has been in an accident that wasn't your fault, you could be entitled to accident claims compensation. Our expert personal injury solicitors are waiting to hear from you to assess your potential accident claim.
Contact First Personal Injury by ringing the number above or by filling out the online compensation form.