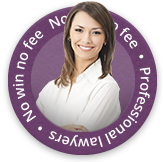 A cyclist who was injured when he hit a sunken drain and was propelled over the handlebars of his bike has been awarded damages for facial injuries.
The bike accident happened in Edinburgh and the man sustained a smashed cheekbone even though he was wearing an appropriate cycle helmet.The injury to his cheekbone has caused ongoing numbness and a difficulty in chewing.
The man has been successful in his accident claim.