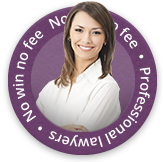 A football fan who had been travelling home following the Hibernian vs Aberdeen FC match last year has received a compensation reward of £25,000 after being set on fire.
The fan had worn a sheep costume to watch the game in Edinburgh, which took place on Halloween. It was after the game when he was on a train back to Aberdeen when his costume was set alight by a Hibernian fan who was apparently just playing with his cigarette lighter.
The victim went up in flames and fellow passengers failed to put out the fire, with only alcohol to hand. As a result, he suffered from second and third-degree burn injuries to around 40 per cent of his body, as well as damage to his lungs by smoke inhalation and sepsis.
In court, the judge accepted the incident as a terrible accident, with the offender pleading guilty to the charges and agreeing to pay his victim £25,000 in compensation.
Have you been in an accident that wasn't your fault?
If you or someone you know has been in an accident that wasn't your fault, you could be entitled to accident claims compensation. Our expert personal injury solicitors are waiting to hear from you to assess your potential accident claim.
Contact First Personal Injury by ringing the number above or by filling out the online compensation form.
Suffering from burn injuries through no fault of your own could mean that you are eligible to claim compensation. Please call 0800 808 9740 or complete the online accident claim form to find out more.