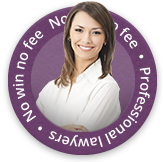 A police officer is to receive a compensation payout for the injuries he received when he fell off his bike.
The long standing police officer was cycling home from work when he fell off his bike injuring his knees. He suffered a broken knee cap on one knee and on the other knee he sustained ligament damage. To further add to his ailments he was infected with a MRSA infection whilst in hospital.
The police officer is unable to return to work due to the ongoing nature of his injuries. The officer's future in the police force has been seriously impeded as he is unable to carry out his duties. All accident claims are considered carefully and as a result he received £110,000 in compensation.
Have You Had An Accident Which Was Not Your Fault?
If you have been involved in an accident and been injured in the past 3 years and it was not your fault, you could be entitled to make an accident claim. Contact our team of highly experienced personal injury lawyers to find out about claiming compensation. Your call to us will be in treated in confidence. You can either call us on the telephone number above or complete our quick online injury claim form to make initial contact and one of our team will come back to you to discuss your prospective case.