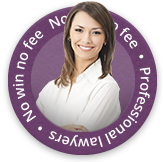 The Law Society is offering advice on how to go about making accident claims due to the icy weather. Reports suggest that there is likely to be an increase in claims because of the freezing weather conditions which have swept through the UK recently.
There is also likely to be some confusion about what sorts of accidents can be claimed for and how.
The advice of the Law Society is to contact a specialist solicitor, like First Personal Injury, if you think you may be entitled to make a claim rather than pursuing your claim through a claims management company.
In a recent interview, Law Society president Robert Heslett explained that, "Solicitors are very approachable and many offer free first interviews for personal injury claims so there is no need for consumers to use a claims management company to make a claim. Consumers should always approach a solicitor directly when they want advice about a personal injury claim. Going through a claims management company could delay your case and will introduce a middle man who offers no benefit."
Personal Injury Claims
If you've had a personal injury you may be entitled to compensation. First Personal Injury solicitors will help assist your prospective claim and help further win your compensation if you're entitled to it.
Contact First Personal injury today by ringing the number above alternatively by filling out the online claims form.