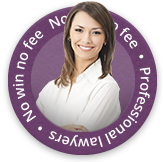 A 29 year old man is seeking compensation for horrific injuries he received whilst taking part in the Isle of Man Grand Prix.
The rider's motorbike frame allegedly split in two causing him to lose control. He was dramatically airlifted to hospital.
The motor bike enthusiast has since had to give up his £40,000+ job due to the nature of his injuries. He claims one leg is now shorter than the other.
In his accident claim the rider is seeking £300,000 compensation from Suzuki alleging that the welding on the frame was ineffective and that the company was negligent in not following correct safety checks.