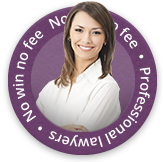 A man who was hit by a car as he stood on the pavement outside a shop is attempting to make a leg injury compensation claim.
The man who was 38 at the time of the accident had to spend over 3 months in hospital and after countless operations, had to have his leg amputated below the knee. He is unlikely to be able to return to his former employment because of his injuries.
The driver of the car is thought to have lost control of the vehicle and mounted the pavement.
The injured man is planning to seek damages for medical care and loss of earnings.
First Personal Injury Help with Road Traffic Accident
Our personal injury solicitors will help with your road traffic accident compensation claim. If you've been in a road traffic accident that wasn't your fault you may be entitled to compensation.
Making Personal Injury Claims
If you've had a personal injury, you may be entitled to compensation. The solicitors at First Personal Injury are on hand to assist you and help you win the compensation you're entitled to.
At First Personal Injury, we work with individuals and families across England and Wales, helping them to make claim compensation following an accident or injury. Contact our specialist team today on 0800 808 9740 or complete our online form to request a call-back.