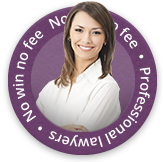 A mother from Rugby, who had a swab left inside her body after having a Caesarean, has received £30,000 compensation.
The woman had given birth to her daughter in December 2007 by Caesarean section and began to feel extreme pain around two weeks after the birth. She was then rushed to hospital on Christmas Eve to get an X-ray which revealed that a medical swab had been left inside her at the time of the Caesarean. Following this discovery, the women had to have emergency surgery at Coventry Hospital to remove the swab.
Since the horrific ordeal, an investigation had taken place to ensure similar birth injuries won't happen again. University Hospitals Coventry and Warwickshire NHS Trust have now paid the £30,000 compensation after the medical negligence claim was settled out of court.
Birth injuries affecting the mother can often happen if safe surgical procedures are not followed correctly, please call 0800 808 9740 for more information on making a claim for similar injuries, or complete the online accident claims form.
Have you suffered due to medical professional negligence?
If you or someone you know has suffered due to clinical negligence you may be entitled to compensation.
Our personal injury lawyers are contactable to discuss your medical negligence compensation claim. Contact us using the telephone number above alternatively use our online claim form.