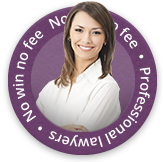 We've commented several times on the dangers of the increasing number of potholes on our roads due to the very cold weather this winter.
Potholes present more danger to cyclists and motor cyclists than those driving four wheeled vehicles and they could cause serious road traffic accident.
It is the local authorities' responsibility to maintain the road and to repair any dangerous defects.
If you've been injured as a result of an accident because of a pothole in the road you could be entitled to make a personal injury claim and you should contact an experienced personal injury lawyer. You should make sure that you have taken photographs of the area where the accident occurred and that you have records of any medical treatment that you received.
Accident Claims with First Personal Injury
If you've had an accident that wasn't your fault, you may be entitled to accident and injury claims compensation. Our expert personal injury lawyers help people across England and Wales to win the compensation they deserve.
Contact First Personal Injury today by calling 0800 808 9740 to discuss your potential claim. Alternatively, request a callback at a time that suits you by filling out the online enquiry form.