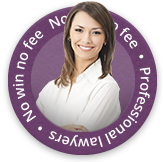 What Does No Win No Fee Mean?
No win, no fee in the context of a personal injury case, means that the financial risk of pursuing a compensation claim is minimised for the claimant.
Conditional Fee Arrangement
No win no fee is also known as a Conditional Fee Arrangement (CFA). CFAs were introduced following the abolishment of legal aid in the mid-nineties. They enable anyone to pursue a personal injury case irrespective of their financial position.
If your Solicitor is acting under a CFA they will only be paid if you win your case and not if you lose. If you win, your solicitor will be paid by the losing party. Not only will they pay your compensation, but they will also pay towards your legal fees and expenses such as court and medical fees.
In the case that your claim is successful, your solicitor will charge you a success fee, which will be set out for you at the beginning of your claim. Success fees are expressed as percentages and the success fee applied to your case will very much depend on the risk assessment made at the outset of your case. It is based on how good the solicitor feels your chances of obtaining compensation are.

The team were very informative and helpful when it came to helping me understand what was going on.
Zoe from Lincolnshire
See more testimonials
There is no cause for concern about bills however as your solicitor will cap any monies you owe at 25 % of your compensation for past loss and pain and suffering.
So if you lose and you have acted in accordance with your solicitor and on your solicitor's advice you will have nothing to pay and if you win any monies you must pay your solicitors will be capped at 25% of the amount you receive for past loss and pain and suffering.
Why Opt For No Win No Fee Compensation?
No win no fee claims remove the financial risk of pursuing a personal injury case. Injured individuals who make a claim do not have to worry about any negative financial implications of hiring a solicitor.
Legal Costs and No Win No Fee
There will be legal costs to pay if you win, but most of these will be paid by the blameworthy party on top of your compensation amount. If you win, any remaining legal fees and a success fee will be deducted from your compensation. We will cap any charges and therefore not deduct more than 25% of your damages.
What Happens If I Lose My Compensation Case?
First Personal Injury lawyers will assess the validity of your case. If we decide to take on your claim it is because we are prepared to work on a CFA. This means we will share the risk and only be paid in the event you win your case. We will keep reassessing your case at all the stages and keep you informed.
However, although we will not charge you in the event you lose, your opponent may do. To protect you from having to pay any legal costs incurred by the opposing party in the event of your claim failing, we can organise After Event Insurance. You will only have to pay the insurance premium if you win your case; if you lose, the premium is written off.
For more details on compensation and no win no fee* explained, please get in touch with First Personal Injury. We will be able to help you and provide further information regarding the personal injury claims process.
Related
This firm is not authorised under the Financial Services and Markets Act 2000 but we are able in certain circumstances to offer a limited range of investment services to clients because we are regulated by the Solicitors Regulation Authority of England and Wales. We can provide these investment services if they are an incidental part of the professional services we have been engaged to provide.