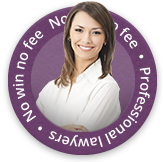 If you've been involved in an accident on the road – whether in a car, on a motorbike, or while cycling – there are various steps you should always take.
If the accident wasn't your fault, it's likely you'll be able to make a successful claim for personal injury compensation. Make sure you follow these steps to put yourself in the best position for a successful claim.
Notify the appropriate people
If you are injured in an accident on the road it's vital that you notify the appropriate people. This might include the police, your insurer and your doctor.

Great service, very understanding from the first phone call to the last.
Michael from Leicestershire
See more testimonials
Reporting to the police
If it's a serious road accident resulting in injury, the police should be called to the scene and you should provide them with your account of what happened. If you have been seriously injured you may not be able to make the report immediately, but you should ensure you do as soon as you are well enough.
Report to your insurer
In most instances, claims for accidents on the road will be done through your insurer. You must make sure that you report the accident to them immediately, even if the accident was not your fault.
Personal injury solicitors
If the accident wasn't your fault and you've been injured, you should contact personal injury solicitors as soon as is reasonably practicable in order to secure the compensation that you deserve. Advice will be given on the likely success of the claim as well as the potential damages available.
Seek medical attention
If your accident was very serious, it's likely that you will have been taken to hospital. However, if your injuries were only minor it's still important to pay a visit to your doctor. Not only will this help with your claim but some injuries may not be immediately apparent following the accident, but can come on further down the line. This includes various head injuries and whiplash.
Speak to any witnesses
If you can, it's also advisable to get the names and telephone numbers of any witnesses as they could prove very important to the success of your claim. It's also advisable to take photos of the scene if you can – anything that can help your claim.
Make An Accident Compensation Claim
If you or someone you know has been in an accident they may be entitled to injury compensation. Our expert personal injury lawyers are able to help with your potential accident compensation claims.
Get in touch by calling 0800 808 9740 or by filling out our online form.