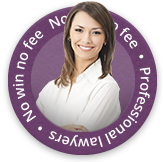 There are many kinds of injury which could lead to a broken foot. Accidents at work and slipping and tripping accidents are two of the most common kinds of accident claim.
Damaging your foot in any way can cause permanent or temporary disability. In some cases, it can also affect your employment prospects.
If you have suffered an injury of this kind and would like to know how much compensation for a broken foot, read on to learn about the kind of considerations taken when calculating a personal injury claim.
Alternatively, if you have injured your foot in an accident and think you might have cause to make a claim, the personal injury lawyers at First Personal Injury are ready to help you.
Call us on 0800 808 9740 or complete the form on the right to request a call-back.
Compensation Quantities For A Broken Foot Claim
| | |
| --- | --- |
| Severity of injury | Potential compensation |
| Simple fracture with a predicted full recovery | Up to £5,590 |
| Modest foot injuries, including metatarsal fractures, with continuing symptoms such as pain, aching or limping. | Up to £10,960 |
| A broken foot classed as a displaced metatarsal fracture resulting in permanent disability and/or deformity with the possibility of osteoarthritis | £10,960 – £19,920 |
| A broken foot that has resulted in continuous pain as a result of traumatic arthritis with lengthy treatment and the possibility or needing fusion surgery | £19,920 – £31,250 |
| Both heels or feet fractured resulting in restricted mobility. e.g. if you have experienced extensive surgery, heel fusion, ulceration or other disability | £33,460 – £55,830 |
| Serious fracture, resulting in a permanent disability | £66,930 – £87,410 |

It is with a grateful heart that I thank you for all your help in a) getting my mother her compensation and b) allowing her to keep it without any more outgoings so she can take care of her family. We really fell on our feet finding your firm and rest assured I will be fully recommending you to all my friends.
Anonymous from Manchester
See more testimonials
How Do I Claim Compensation For A Broken Foot?
We recommend that you speak to a personal injury lawyer in the first instance. After learning the circumstances of your injury, they will be able to advise how much compensation you could receive for a broken foot.
A broken foot can often lead to very painful and debilitating conditions which leave you in lots of pain and unable to carry out activities you did prior to your injury. If the accident was someone else's fault you may be able to pursue a compensation claim.
In the first instance, our specialists will potential of your claim. Once it has been confirmed that you have a valid personal injury claim, our solicitors will be on-hand every step of the way. Please call us on 0800 808 9740 for free, no-obligation advice.