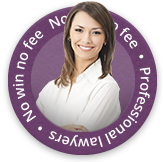 If you have broken or fractured your jaw as a result of an accident that wasn't your fault, you may be able to make a personal injury compensation claim.

What kind of accident can I claim personal injury compensation for?
If you've broken your jaw and think you are eligible for personal injury compensation, the main thing that must be established is whether a third party can be deemed to be at fault for the accident.
Your injury could have been caused by any number of accidents including:
a road traffic accident (RTA)
an instance of medical negligence
a slip, trip and fall
What should I do?
The first thing you should do is to seek medical treatment for your injuries. Not only is this essential for your health, but it could also play an important part in your personal injury compensation claim.
If you think you may be eligible to make a claim, you should ensure you contact personal injury solicitors with experience in this area of the law. Initially, they will provide you with an evaluation of the likelihood of your claim succeeding.
What compensation can I potentially receive?
Depending on the nature of your claim and your injuries, you may be able to claim compensation for the following:
Pain and suffering – for the actual injuries caused
Special damages – to restore you financially to the same position as before the accident
How will the compensation be calculated?
Your legal team will obtain a medical report from an independent medical expert describing your injuries, the symptoms you're now experiencing and your future prognosis. They will then evaluate this report against previous case law and Court guidelines to establish the potential compensation you're likely to be awarded.
Special damages will depend upon the factors of your individual case and can potentially include loss of earnings, medical costs and damaged property.
How much compensation will I receive?
The following is just a guide to the potential levels of compensation (based on pain and suffering):
| | |
| --- | --- |
| Level of injury | Potential compensation |
| Simple jaw fracture | £5,150 – £6,960 |
| Seriously broken jaw with permanent consequences such as difficulty opening the mouth or with eating | £14,320 – £24,300 |
| Serious multiple fractures following by prolonged treatment and permanent consequences | £24,300 – £36,310 |