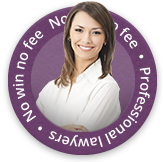 Ankle injuries, particularly broken ankles, can be debilitating and have a significant impact on your everyday life and mobility. You might be left unable to work, walk or drive for a significant period of time following your accident.
If your ankle injury was caused by someone else's actions or negligence, you are legally entitled to make a personal injury claim.
Call 0800 808 9740 or complete our online enquiry form and we will be in touch to discuss your potential ankle injury compensation claim. 
Potential ankle injury accidents
An ankle injury can occur in any number of accidents, including slips, trips and falls, accidents on the road and accidents at work.
Slips, trips and falls ankle injuries
The most common cause of ankle injuries are slips, trips or falls. These kinds of accidents are usually a result of an obstacle or a poorly maintained floor surface (such as a pavement). If you have slipped, tripped or fallen in a public place, at work or elsewhere, in an accident that could have been prevented by someone else's actions, you may be able to claim ankle injury compensation.
Ankle injury after a road traffic accident
Road traffic accidents including car accidents, motorcycling or cycling accidents can also result in ankle injuries.
Types of ankle injury
The most common types of ankle injury we see at First Personal Injury are:
Sprained ankle injury
Fractured or broken ankle
Damaged Achilles tendon
Ankle dislocation
Severe bruising
I was a passenger in a car involved in a road traffic accident and suffered serious injuries to my right shoulder, my elbow and scarring to my forehead. I was unable to work for a long time. First Personal Injury dealt with my case from the outset. I never expected that I would receive £21,191.00 of compensation for my injuries and other losses I had as a result of the accident. I am delighted with the outcome of my claim and would definitely recommend First Personal Injury to anyone who wants to make an accident claim.

Natasha from Manchester
See more testimonials
Making a claim
Following your injury, it's vital that you seek medical attention to determine the extent of your injuries.
Once you have done this, to stand the best chance of success in your claim it is advisable to contact a specialist team of personal injury solicitors.
Taking into account all the details they will assess all elements of how to bring a successful claim. Most notably this will include who you will be claiming against and whether that person (or organisation) was legally at fault for the accident causing your injuries.
Compensation
The level of compensation you may be awarded for an ankle injury will depend on the actual injury you have suffered (pain and suffering) and its severity. This amount will also depend on how your injury has impacted your day-to-day life and the length of your recovery.
Initially, your solicitor will obtain a medical report from a specialist medical expert. This will set out the extent of the injuries you have suffered. The report will also provide a medical prognosis of your condition detailing your predicted recovery time and anticipated care needs.
Once they have established the value of your injury, your solicitor will look at your financial losses. In doing so, they will calculate the special damages of your claim. This will take into consideration any additional losses you have experienced as a result of your injury. These could include loss of earnings, medical expenses and travel expenses.
Potential levels of compensation for ankle injuries
The following is a guide to the potential levels of compensation for your injury alone:
| | |
| --- | --- |
| Type of ankle injury | Potential compensation |
| Modest ankle injury where there is a complete recovery | Up to £6,130 (lower amounts are granted for injuries which have been resolved within a short period of time) |
| Modest ankle injury, where there has been a minor displaced fracture, sprain or ligament injury. | Up to £10,960 (Compensation amounts will depend on whether or not you have made a full recovery or if your injury has caused permanent weakness, scarring or discomfort.) |
| Damaged Achilles tendon | £5,800 – £30,630 |
| Moderate ankle injuries, including fractures, ligament tears or those which cause difficulty walking or standing. Might also result in scarring or the risk of osteoarthritis. | £10,960 – £21,200 |
| Serious ankle injury for which there has been a long period of treatment or which has been in plaster for a long time which limits your ability to walk. | £24,950 – £39,910 depending on the extent to which your injury has disturbed your sleep, affected your employment prospects have been affected and/or if you have had to wear special footwear. |
| Very severe ankle injuries that result in deformity, amputation below the knee. | £39,910 – £55,560 (The exact compensation will depend on if both ankles have suffered degeneration of the joints at a young age and whether or not arthrodesis has been necessary.) |
Personal Injury Claims
If you've had a personal injury you may be entitled to compensation. First Personal Injury solicitors will help assist your prospective claim and secure you the highest amount of compensation.
Contact First Personal injury today by ringing 0800 808 9740 or, alternatively, by filling out the online claims form.
Explore: Ankle Injury Compensation