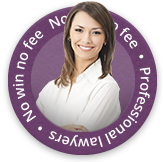 Unfortunately, injuries after motorbike accidents can be extremely serious and in some cases, fatal. Those who ride motorbikes may assume some kind of risk in riding them in the first place, however, there are a number of accidents caused by other motorists involving motorcyclists every day.
Accordingly, if the accident was someone else's fault, then a motorcycle accident claim for personal injury can be brought.
The lawyers at First Personal Injury are ready to help you. Call our team on 0800 808 9740 or contact us online for a free, confidential initial conversation about your accident.
What should I do if I've been injured in a motorcycle accident?
If you've been injured in a motorcycle accident, the first thing you should do is make sure you receive medical treatment. Not only will this help with your injuries, the medical record will be a vital piece of evidence in your claim.
You should also make sure you have the details of the other motorist involved, as any personal injury claim brought against them will have to be dealt with by their insurers.
If the police weren't present after the accident, it's also worthwhile contacting them as again this could prove valuable in your claim. Where possible, you should also record the contact details of any witnesses to the accident.
Personal injury solicitors
Making a claim against another individual (or their insurance company) can be a difficult process, so you should always contact personal injury solicitors to conduct this on your behalf. Once provided with details of the accident, advice will be given on the chances of succeeding with the claim and the potential levels of compensation available.
How much compensation will I receive?
The levels of compensation will depend on the actual injuries sustained and any other financial costs that have occurred following the accident.
If your claim is successful, damages will be awarded to compensate you for:
Pain and suffering – for the actual injuries suffered
Special damages – for any financial losses suffered, including loss of income, medical bills and transport costs
How much will I receive?
The following is just a guide, relating to damages awarded for pain and suffering.
Head and brain injuries
| | |
| --- | --- |
| Type of head or brain injury | Potential compensation |
| Severe brain damage | £174,620 – £322,060 |
| Moderate brain damage | £34,330 – £174,620 |
| Less severe brain damage | £12,210 – £34,330 |
| Minor head injury | £1,760 – £10,180 |
Back injuries
| | |
| --- | --- |
| Type of back injury | Potential compensation |
| Minor back injury | £1,500 – £8,900 |
| Moderate to severe back injury | £9,970 – £128,320 |
| Paralysis of the lower body (paraplegia) | £174,620 – £226,610 |
| Total paralysis (quadriplegia or tetraplegia) | £258,740 – £322,060 |
Broken or fractured limbs
| | |
| --- | --- |
| Type of fractured limb injury | Potential compensation |
| Fractured leg with incomplete recovery | £14,320 – £22,130 |
| Complicated fracture of the forearm (leading to permanent disability) | £15,300 – £47,720 |