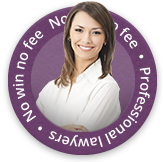 If you have injured your shoulder in an accident that wasn't your fault, you may be able to make a claim for personal injury compensation.
What are the common types of shoulder injury claim?
Shoulder injury claims usually occur in one of the following situations:
Road Traffic Accidents
Extreme forces can pass through your body if you're involved in a car crash. Your spine can be whipped forwards and backwards by the force of your head as the seatbelt restrains your upper body.
This can cause whiplash which can affect your neck, cervical spine and your shoulders. Various injuries can be caused to your shoulders as a result of whiplash, including nerve damage as well as strain or damage to the muscles and tendons.
If you think you may have suffered whiplash following a road traffic accident, look out for stiffness in your shoulders and neck as well as a tingling down your arms and into your hands.
Work Injury Claims
If you undertake manual lifting or handling in the workplace, this will invariably put a lot of pressure on your shoulders. If you're required to lift heavy loads or if you are involved in repetitive lifting, this can lead to injury to your muscles and tendons in your shoulders.
Slip, trip and fall accidents
Wherever you slip, trip or fall, one thing is likely to remain the same – your natural instinct will be to protect yourself using your arms. As you hit the floor, your shoulders will often take the full weight of your fall. This can lead to broken bones, tendon and muscle damage, as well as potential nerve damage.
How do I go about making a shoulder injury claim?
If you've injured your shoulder in an accident which wasn't your fault, you should contact a specialist legal team with experience in this area.
If they can prove your injury was the legal responsibility or fault of another party they can make a personal injury compensation claim on your behalf.
How much compensation can I expect to receive?
The compensation you may be able to receive includes compensation for your pain and suffering as a result of the injury itself, as well as the financial losses which have been caused as a direct result of your injury. These may include lost income, medical expenses, travel expenses etc.
The following is a guide to injury compensation levels for shoulder injuries:
Minor muscular and tendon injuries – no more than £2,800
Injuries where the symptoms last for up to two years – £2,800 – £5,000
Frozen shoulder, where symptoms last for no more than two years – £8,000
Serious shoulder injuries, including dislocations, fractures and nerve damage – £8,000 – £31,000
Please note, the figures above are intended to serve as a guide only. To get a more accurate idea of how much you might be entitled to, you should contact a solicitor.
Personal Injury Claims with First Personal Injury
First Personal Injury has built up a reputation across England and Wales for their approach in personal injury claims. Working with members of the public who have had personal injuries, First Personal Injury exceeds customer expectations.
Contacting First Personal Injury is free by calling 0800 808 9740 alternatively by filling out the online claims form.