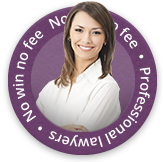 If you have suffered a soft tissue injury as a result of an accident that wasn't your fault, you may be able to make a personal injury compensation claim for your injuries.
Soft tissue injuries are one of the most common types of personal injury and can be caused by a variety of different accidents. They affect muscles and joints and include sprains, strains, dislocation and bruising. Personal injury claims for these kinds of injury are common.
The most common forms of soft tissue injury
Sprains
Sprains are caused by a sharp stretch or tear to one or more ligaments. Because ligaments are the tissues connecting your bones, any ligament injury can not only be extremely painful, it can be immobilising. Sprains can happen to any joint but most commonly they occur in the ankle or wrist and depending on the severity, may be required to heal in a plaster cast.
Common symptoms of a sprain include pain, swelling, bruising and reduced ability or complete inability to use the joint.
Strains
These are less severe than sprains but are still very painful. Caused by twisting or pulling a muscle and/or tendon; strains may be the result of one accident or continued long-term repetitive use.
Symptoms include pain, limited motion and muscle spasms as well as weakness.
Dislocations
Dislocation occurs when a bone is dislodged from a joint – most commonly the shoulder. They can be very painful, as well as potentially causing damage to the nerves and blood vessels. Bruising, swelling and distortion of the joint are also common symptoms, as well as a loss of movement and sudden pain.
Types of accidents causing soft tissue injury
Soft tissue injuries can occur in any number of accidents including:
Personal Injury Solicitors
Following involvement in any accident which has caused you injury, you should contact personal injury solicitors who will evaluate your case. If another individual or organisation was at fault for your injuries, you may be entitled to compensation.
Levels of compensation
Depending on the extent of your injuries, you may be entitled to compensation for pain, suffering and loss of amenity. You may also be able to claim for any financial losses you have suffered as a result of the accident.
Pain and suffering will be calculated in line with court guidelines and previous case law. On the other hand, your financial losses will be dependent on your individual case. These can involve lost income, travel expenses and medical costs, amongst others.
If you have suffered soft tissue injuries following an accident, personal injury solicitors could be there to help.
Personal Injury Claims with First Personal Injury
First Personal Injury has built up a reputation across the United Kingdom for their approach in personal injury claims. Working with members of the public who have had personal injuries, First Personal Injury exceeds customer expectations.
Contacting First Personal Injury is free by calling 0800 808 9740 alternatively by filling out our online form.