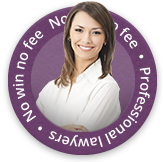 One of the most common types of accident to lpersonal injury claims is a slip, trip or fall. This could be on a high kerb in the street, in a shop or supermarket due to a wet floor or whilst at work.
If you have been injured following a slip trip or fall, there are a number of things you should do to help with your claim. Here we give you the rundown.
Get your injuries treated
If your injuries are serious, it's likely that an ambulance will need to be called. Even if your injuries don't immediately appear serious, it's still important to pay a visit to your GP. Not only will this ensure a record of your injuries which will help your claim, many injuries (especially head injuries) are not immediately apparent, so it's worth getting yourself checked out.
Take a photo
Most of us have camera phones, so if you can take a photo of the defect immediately you should do so. If you slipped or tripped over a high kerb for example and didn't take a photo immediately, you should return to the incident and do so. This kind of evidence could prove valuable to your accident claim.
Contact any witnesses
If anyone witnesses your injuries, you should make sure you get their names, addresses and contact details. Any statements they make could prove valuable to your claim.
Contact Personal injury solicitors
Bringing a claim against a supermarket or the local authority can be a difficult and long process. It's important that you seek the assistance of personal injury solicitors for advice on the success of your claim, potential levels of compensation, and to represent you in bringing the claim.
Notify The Responsible Party
If your claim is against the council for an accident on the highway, you should notify them in writing of what happened. This will ensure there is a formal record of the accident. If it occurred in a shop or supermarket, you should report it to a manager and ensure it is recorded in the incident book.
Keep a diary of your injuries
Keep a record of any of your injuries and the dates on when they occurred and how they have developed. This can be used in conjunction with your medical records from your doctor.
Keep a record of any expenses
When making a personal injury claim, you may also be able to claim for any costs and expenses incurred such as medical costs, travel expenses and income lost through being off work. You should always keep a track and evidence of all of these.
Had A Slip Trip or Fall – Not Your Fault?
If you have had an accident which occurred as a result of a slip, trip or fall and it was not your fault, in the past 3 years, you could be able to make a claim for personal injury compensation. Call our team of injury lawyers today to find out about making a claim. Alternatively, complete our initial online claim form so that we can then come back to you to discuss your situation with you in confidence.
Have you been in an accident that wasn't your fault?
If you or someone you know has been in an accident that wasn't your fault, you could be entitled to accident claims compensation. Our expert personal injury solicitors are waiting to hear from you to assess your potential accident claim.
Contact First Personal Injury by ringing the number above or by filling out the online compensation form.