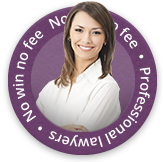 Driving in the winter can be a difficult and hazardous experience. Poor visibility and harsh weather conditions are some of the leading causes of traffic collisions and compensation claims in the UK. Whilst the best way to avoid an accident in adverse weather conditions is to stay off the roads altogether, this is not always practical. Put your safety first and take a look at our guide to driving this winter.
Preparation
If you're setting off somewhere in the morning, get up at least half an hour early to prepare your car for the journey. This includes clearing your windows of all snow and ice (you should have complete visibility from all windows) and making sure your vehicle is stocked with a de-icer, a fully charged mobile phone, a torch, some blankets, a first aid kit, a tow rope and a warning triangle.
Check the condition of your car
Maintaining and carrying out routine checks of your car is important all year round, but this is even more so during the winter months. Before you set off, ensure that all lights and wipers are working well and your tyres are at the correct pressure and have plenty of tread depth.
Plan your route
Where possible take a route to your destination that includes major roads, as these are more likely to have been gritted. It is also a good idea to allow yourself more time to get there as driving at high speeds on icy roads can be very dangerous. If you think you might be late to arrive, try to let those you are meeting know before you set off to avoid feeling stressed while driving.
In snow and ice
When the roads have been subjected to snow and ice, remember that your stopping distances are ten times longer and you should approach all manoeuvres gently. Should you need to drive uphill, try to avoid stopping and maintain a steady speed on the ascent. Going downhill, use a low gear and make sure your speed is reduced before you begin going down, leaving plenty of room between your vehicle and the one in front.

Been Involved In A Weather-related Accident?
If you have been involved in an accident related to the weather, such as an accident in the snow, you may be able to make a claim for personal injury compensation. Contact our team of injury lawyers to discuss your potential claim, in confidence.