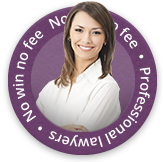 What To Consider Before Making A Personal Injury Claim
When you've been injured through no fault of your own, you may consider making a claim for compensation.
However, not every injury is eligible for monetary damages. Because of this, you'll need to weigh your injuries and the merits of the claim against the potential recovery amount.
Consider your role in preventing or causing the injury
Did your own actions cause your injury? Were you paying attention to where you were going or what you were doing? Or, was your accident caused by a hazard outside of your own control?
If you feel that a hazard caused your injury, you may be eligible to receive financial compensation. This will not only compensate you for your injuries, but might also cover the cost of medical bills and loss of wages.
---
Consider the Seriousness of the Injury

I thank you for all your help. We really fell on our feet finding your firm and rest assured I will be fully recommending you to all my friends.
Anonymous from Manchester
See more testimonials
Accidents happen and people are often injured. Injuries can range from minor cuts, scrapes, and bruises, to brain injuries, broken bones, torn ligaments, permanent paralysis, and even death.
It's likely not worth it financially to pursue a claim for personal injury if your injuries are minor. It is likely that the costs of the solicitor and their expenses may be more than any financial compensation you may receive.
However, if your injuries are severe – like broken limbs, concussions or more serious brain damage, back or spinal cord injuries, or even permanent disfigurement or inability to perform everyday functions, a compensation claim makes more sense.
---
Consider How Recent the Injuries Occurred
There are strict laws in place surrounding filing a personal injury claim. Generally, you have three years from the date of the accident to file a court claim. If you are approaching the end of the three-year time limit, your solicitor may not have enough time to conduct the necessary enquiries. On the other hand, if your accident occurred recently, then there will be sufficient time to begin the claims process.
---
Take the Property Owner's Negligence into Account
Being injured on someone else's property isn't enough to pursue an accident or injury claim. You and your solicitor must show that the property owner was negligent. The property doesn't have to be perfectly safe, just reasonably so. For example, during a snowfall, if the property owners were diligent about cleaning the pathways and you were injured anyway, then it could be that there was no negligence. However, if the owners didn't clear the pathways but kept their business open, then negligence may be easier to prove. At the same time, if they displayed signs notifying their customers and employees about the dangers, they may be found to be not negligent.
The more evidence of negligence you are able to provide, the more successful your claim will be. Evidence might be in the form of pictures, your detailed account of the accident, as well as a statement from people who witnessed it.
---
The Pound Value of Compensation
It's not enough to simply consider your injuries and negligence; you must also consider the potential compensation you may receive. If the potential amount of compensation is low, it may not make sense to pursue the claim.
Your solicitor will use their experience to determine the amount of compensation your injuries are worth based on the costs of current and future medical bills. They will also consider your potential to earn wages, which might be temporarily or permanently reduced – maybe even to zero – because of your injuries. Even if you're able to return to work, it may not be at the same rate of pay as before the accident, due to limitations caused by the accident. This will be taken into consideration as well when your solicitor is determining a fair compensation amount.
Lastly, pain and suffering is another factor. Pain and suffering don't have a predictable pound value, like wages may have. Instead, it's subjective, and your solicitor will have a completely different value than the other party's solicitor.
---
Hassle, Stress, and Time
After you've considered the seriousness of your injuries and your ability to show negligence, you must now weigh the hassles ahead of you, as well as the stress and time associated with filing a claim for monetary compensation. You will first approach the at-fault party's insurance company. Their first priority is their customer and they will do their best to defend him or her. Based on the merits of your case, they may quickly decide to offer compensation. However, in many cases, they will fight you every step of the way.
If they continue to dispute your story, you may have to proceed with filing a lawsuit. Your solicitor will provide their expert opinion as well, based on their years of experience with similar cases.
It's not an easy decision to make when you think about whether or not to file a personal injury claim. There are so many factors that are brought into the equation that it may take you several days or weeks before you decide to move forward with your claim. The advice and information you receive from your solicitor and your GP will be extremely valuable as you make your decision. Listen to what they say about your prognosis for recovery and your ability to file a successful claim. Their experience and expertise are important.
---
If you unsure if you should make claim for compensation, call us on 0800 808 9740 or online for a free, no-obligation conversation.
Explore: Personal Injury Resources