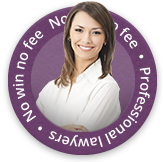 What Does Contributory Negligence Mean?
If you are in the process of making a compensation claim or if you are thinking of starting a claim, then you may have heard of the term 'contributory negligence'. If you are uncertain of its exact meaning then we have detailed below some explanatory information that should help you gain a clearer understanding.
Firstly, it is important to remember that your personal injury lawyer will be able to take care of the full legal process for you and it is not imperative that you understand all legal terms in order to pursue a compensation claim. First Personal Injury lawyers are experienced personal injury solicitors who will help you navigate your way clearly through your claim, gaining the maximum amount of compensation you are entitled to and explaining any legal terms to you in plain English.
Partial Fault

Brilliant friendly service undertaken by knowledgeable, professional staff.
Simon from Warrington
See more testimonials
Contributory negligence, which can sometimes be referred to as partial fault, means that a claimant is partially responsible for the injuries they have sustained. If a claimant is found to be blameworthy then this means they share the responsibility of the accident to some degree, even if a defendant admits liability, they are still able to say that the claimant contributed in some way, to their injuries.
In order for contributory negligence to be granted, it must be demonstrated that the claimant did not take proper care for their own safety and that this failure to take care caused the damage suffered but did not necessarily cause the accident.
In some contributory negligence cases there can be three parties involved but it remains that the court must always look at how the injured party contributed to their injuries as a matter of priority. Some other cases also bring in other kinds of defence as well as contributory negligence. The courts generally lean towards the latter as it allows them to apportion blame between two parties and results are usually considered more fair and just.
Law Reform Contributory Negligence
In 1945, the law changed and the Law Reform Act 1945 was brought in. Prior to this, contributory negligence could be used as a complete defence in a personal injury cases but following the ruling it can only be used as a partial defence but it means that courts can apportion loss between two separate parties. It states:
"Where any person suffers damage as the result partly of his own fault and partly of the fault of any other person or persons, a claim in respect of that damage shall not be defeated by reason of the fault of the person suffering the damage, but the damages recoverable in respect thereof shall be reduced to such extent as the court thinks just and equitable having regard to the claimant's share in the responsibility for the damage."
What Happens if Contributory Negligence Is Evident?
If a court upholds the decision of contributory negligence then the amount of compensation can be reduced by the percentage of blame that has been apportioned e.g. if a passenger of a car has been told they contributed to their injury by 30% then the amount of damages can be reduced by 30%.
What Does Contributory Negligence Mean For Me And My Case?
The best way to describe contributory negligence is through examples of common types of personal injury accidents. See below some relevant cases:
When a passenger does not wear a seatbelt in an accident where the driver was at fault he/she could said to have been negligent and a percentage of blame could be apportioned to him/her
If a helmet has not been worn or fastened correctly before a motorbike accident
Employees who have not worn safety equipment when they have had an accident; the accident would still have happened anyway but the level of damage that has occurred has been exacerbated because of the contributing negligence of the person injured
When a pedestrian does not look when he/she crosses the road and suffers injuries through a car accident
If warnings are not adhered to and a risk is taken e.g. at work. This is different if you accept reasonable risk while trying to rescue someone and is usually not considered contributory negligence
Making A Claim For Personal Injury Compensation With First Personal Injury
If you believe you have a case and there could be contributory negligence claimed by a defendant then please get in touch with First personal injury lawyers who will be able to advise you in more detail and use their experience to demonstrate the likelihood of this.
In addition, if you want to pursue a personal injury case and would like more information on the validity of your claim or anything else, please call our no win no fee solicitors today on our national accident helpline on 0800 808 9740 or complete an online claim form direct.