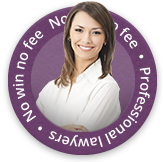 If you have suffered an injury whilst on the street, in a public area or building, you may be able to bring a personal injury compensation claim against the local council.
The solicitors at First Personal Injury may be able to help you make a claim. Call us on 0800 808 9740 or get in touch online to learn more.
How can I make a claim against the council?
Councils and local authorities have a legal responsibility to protect the safety of members of the public who live in, work in or are visiting their borough or area.
Their responsibilities include the maintenance of upkeep of the following:
Schools
Roads and pavements
Public parks, playgrounds and swimming pools
Council property such as leisure centres, libraries etc.
What should I do?
If you've suffered an injury in a public place which you believe to be the fault of the council you should immediately contact an experienced personal injury lawyer.
Your Solicitor will make the claim against the council on your behalf. They will deal with all the legal intricacies of the case, handling your claim from start to finish. If they can prove that your injury occurred because of the negligence of the council, you will be entitled to compensation for the personal injury caused.
Examples of potential claims against the council
One of the most common compensation claims against local authorities is those involving pavement falls. For your claim to be successful your accident must have been caused by a paving stone sticking up above the pavement by around 1 inch or more. Similarly, if you tripped on a pothole, the depth of this must also be at least one inch. You must also show that the council knew or ought to have known about the defect. They should have a reasonable inspection system in place to deal with defects and prevent accidents.
Other examples of claims against councils involve accidents that have been caused by:
uncovered manholes or faulty manhole covers
defective council housing or other property
Is there anything I can do to assist the success of the claim?
To aid with the success of your potential claim it's worthwhile doing the following:
Record the names, addresses and telephone numbers of any witnesses
Take photographs and measurements of the defects which you alleged to have caused your injuries
Keep all receipts for any expenses you have suffered as a result of your injuries
What compensation could I potentially receive?
Depending on the severity of your injuries, you could receive compensation for your pain and suffering as well as any potential financial losses suffered. The potential level of each will be dependent upon the circumstances of your individual case and the injuries suffered.
Making Personal Injury Claims
If you've had a personal injury, you may be entitled to compensation. The solicitors at First Personal Injury are on hand to assist you and help you win the compensation you're entitled to.
At First Personal Injury, we work with individuals and families across England and Wales, helping them to make claim compensation following an accident or injury. Contact our specialist team today on 0800 808 9740 or complete our online form to request a call-back.