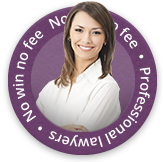 Considering Making A Claim For Personal Injury Against A Landlord?
If you are living in a rented property and you become injured in or around the property through no fault of your own, you may be able to make a personal injury claim.
The lawyers at First Personal Injury are ready to help you with your potential claim. Call our friendly team on 0800 808 9740 or get in touch online.
Landlord Negligence Claims
Some of the common kinds of personal injury claims made against landlords include:
Carbon monoxide poisoning claims can sometimes be made against a landlord if it can be proven that there was not adequate prevention of this danger by the landlord. E.g. a gas fire which has not been properly maintained could cause carbon monoxide poisoning. In some cases, this can be fatal.
Leakages in a property e.g. a leaking roof, may result in wet surfaces and cause you to slip and become injured
If there has not been safety glass fitted onto doors and there has been an accident as a result then your landlord could be negligent
Defective equipment in the house, for example, loose-fitting carpet or poorly-fitted bannisters, could cause a fall and result in a serious injury
If there is a lack of lighting or broken lighting in the property, this could also result in an injury. E.g. cuts and lacerations or an electrocution
Poor conditions, such as damp, could have caused illness in a tenant
Slipping and tripping claims can also arise from landlord negligence. Poorly fitted flooring e.g. kitchen floor tiles and potholes on driveways can cause these kinds of accidents. Sometimes, these accidents can lead to serious injuries

I am delighted with the outcome of my claim and can't thank you enough for all the hard work that you put in. Everything went so smoothly and all I had to do was sign some papers and everything was taken care of. Anytime I had any concerns I knew I could call and my mind was always put at rest. You can never know how much this means to me and I am so grateful. If anything ever happened to me again then I would come straight to you.
L Smith from Lincoln
See more testimonials
The Responsibility of A Landlord
Whether you are living in a council house, renting from a letting agent or living in a privately rented property, your landlord has a responsibility to ensure you are not harmed while you are residing there. All living areas within a rented property must be of a habitable standard. Landlords must also make sure that communal areas are safe. If they do not and you or a family member become injured, you may have a valid personal injury claim.
Landlords have specific duties which they must carry out, as stated in the Landlord and Tenant Act 1985. These include:
making sure there are no broken windows and if there are, these must be replaced;
rewiring
repairing brickwork
replacing burst pipes
getting rid of dry rot and damp.
If your landlord has failed to do any of those things and you become injured you could be able to make a personal injury claim. As part of a successful claim, you will need to be able to prove that your landlord has not carried out the necessary repair and maintenance work.
No Win No Fee Landlord Claims
First Personal Injury lawyers can help you with your personal injury claim against a landlord. We often work on a no win no fee basis (under what is known as a Conditional Fee Agreement). This means that if you lose your case there are no legal bills to pay.
You have a legal right to live in a home which is free from danger. Our lawyers will work hard on your behalf to bring you the maximum amount of compensation you are entitled to.
What Will My Landlord Negligence Claim Include?
The amount you will receive for your compensation claim against a landlord will be determined mainly by the extent of your injuries. The more profound your injuries are, and their impact on your ability to work and enjoy life, the larger the compensation amount is likely to be.
Your claim will also factor in any out of pocket expenses you have suffered. These might include medical expenses you have paid for in relation to your injury. They might also include travel expenses for making your way to medical appointments. If you have incurred any of these costs, make sure you keep all receipts.
Making A Claim Against A Landlord With First Personal Injury
At First Personal Injury our no win no fee solicitors are experienced in helping clients with a range of personal injury claims. If you believe you have a personal injury claim against your landlord, please get in touch. Call us on our national accident helpline on 0800 808 9740 or contact our lawyers online.