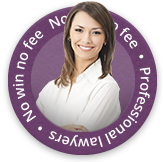 Had A Car Accident? Considering Claiming Personal Injury Compensation?
If you have been involved in any kind of car accident that was not your fault then you could be entitled to personal injury compensation.
First Personal Injury help clients make personal injury claims after car accidents, including accidents as a pedestrian, a passenger or those involving lorries, coaches and buses. Whether you have a whiplash claim or are claiming for a spinal or head injury that was the fault of a third party's.
Claiming Personal Injury Compensation After A Road Accident
In all cases, including claiming personal injury compensation after a car accident, it is necessary to prove that there was another party to blame for your road accident injuries. There are also strict time limits in place, usually three years following the date of your accident, from which you can make a claim.
Following a road accident, it is not always possible to remember to jot down lots of details, but if it is possible, then it can be useful to have names, addresses, mobile phone details of people who were involved in the accident and also any witnesses. Sometimes having a camera to take pictures of the accident scene can be useful if it is safe and permissible to do so.
What To Do After A Car Accident
It is also advisable that the police are contacted as soon as possible, this is particularly important if the driver responsible has driven off without supplying details or if you know the car that caused the accident was stolen.
Personal injury claims after a car accident often involve claimants being compensated for any medical expenses they have had to pay for, for example, physiotherapy or travel to appointments. It is advisable to keep hold of these receipts as they may help with your claim.
Types Of Car Accident Injuries
There are some common kinds of car accident compensation cases that often reoccur, these are:
Whiplash claims
Head injury claims
Psychological injury claims
Spinal injury claims
Claiming Compensation After A Car Accident
Personal injury claims after car accidents are handled on a frequent basis by our experienced team of no win no fee solicitors at First Personal Injury. If you would like to tell us more about your car accident then please get in touch on 0800 808 9740 or complete one of our online claim forms.
Personal Injury Claims with First Personal Injury
First Personal Injury has built up a reputation across the United Kingdom for their approach to accident and personal injury claims. Working with members of the public who have had personal injuries, we continually exceed our clients' expectations.
Contact First Personal Injury's accident claims solicitors free today by calling 0800 808 9740 or by completing our online enquiry form.