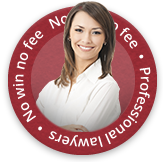 If you are looking to make a compensation claim for DVT Negligence or for blood clots, then we may be able to assist.
The lawyers at First Personal Injury are on-hand to discuss your potential claim. Call us on 0800 808 9740 or get in touch online.
Blood Clots
Blood clots can be triggered by a range of situations. DVT (Deep Vein Thrombosis) is a very serious type of blood clot and can lead to life-threatening complications if it's not treated urgently.
It could also be a Pulmonary Embolism, which is a blood clot in a blood vessel which is responsible for carrying your blood from the heart down to your lungs.
DVT affects around 1 in 1000 people in the UK every year and most commonly the clot occurs in the leg or pelvic areas.
Common Symptoms
Pain and swelling in the surrounding area
Fever
Warm and red skin
If you believe you may be showing symptoms of DVT you should seek urgent advice from your doctor.
Blood clots are a known risk of many conditions including obesity, cancers and during pregnancy. Long-haul flights are a common cause of blood clots and so are prolonged periods of time of inactivity such as being in bed or recovering in hospital.
Diagnosis
If your doctor fails to assess you properly, misdiagnoses or fails to prescribe the correct medication in sufficient time, there may be a strong case for a compensation claim based on negligence.
Hospitals also have a duty to prevent DVT occurring whilst patients are in their care. Some medical treatment can increase your risk of developing DVT and a failure to act in preventing DVT can provide grounds for a medical negligence claim.
There are a few key areas where negligence can occur leading to Blood Clots, including:
Inadequate risk assessment
Lack of treatment to avoid clotting
Lack of mobility support for immobile patients
How Much Compensation Am I Entitled To?
The amount of compensation you may be able to claim will depend on the severity of your condition.
To extend to which your condition has affected your everyday life will also be taken into account. Usually, a solicitor will consider the following factors when calculating the value of a claim:
Any expenses you might have incurred
The current and future impact of your condition on your life and any reduced mobility
Any loss of current and future earnings
Your pain and discomfort
To discuss how much you may be entitled to, please speak to our expert team of lawyers.
How Long Do I Have To Make A Claim For Blood Clot Compensation?
You will usually have three years in which to make a claim from that date at which you realised the blood clots were caused as a result of negligence. The same applies to a family claiming as a result of a fatality. In these cases, the three-year period begins from the date of death.
For those under the age of 18, the three years start from their 18th birthday.
Claiming Compensation for Blood Clots or DVT
If you believe that you may have a claim for blood clots or DVT, it is advisable to get in touch with a medical negligence lawyer as soon as possible.
At First Personal Injury, our solicitors are experienced in all kinds of medical negligence claims. Our team will guide you through the legal process as quickly and simply as possible while also getting you the result you deserve. Usually, we will be able to handle your claim on a no win, no fee basis.
Contact our friendly team to discuss your claim today on 0800 808 9740 or, alternatively, fill out our online form.