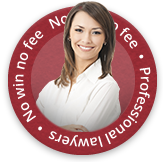 If you have suffered as a result of cystic fibrosis being misdiagnosed as asthma or another condition, then our team of medical negligence solicitors are on hand to help you claim the compensation you deserve.
Cystic Fibrosis
Cystic fibrosis is caused by a faulty version of a gene that helps salt and water move in and out of the body's cells which is important for maintaining a thin coating of fluid and mucus inside the lungs, pancreas, and other organs. The disease can cause major lung damage and digestive problems.
Over the years, there have been many cases of medical & clinical negligence surrounding the misdiagnosis of this condition. If you have been wrongly misdiagnosed with Asthma or another condition, it is vital you contact expert lawyers as soon as possible.
Free initial discussion
For a no-obligation initial discussion about your circumstances and to find out whether you have a claim, please feel free to call us on 0800 808 9740 or get in touch online.
With cystic fibrosis, it is important that it is diagnosed early, and the proper treatment given as soon as possible. If a doctor or physician fails to properly identify the disease, they can potentially reduce a patient's life expectancy.
Cystic Fibrosis Diagnosis
The most common way of testing is through the sweat test. This test monitors the sodium levels in sweat which can indicate the presence of the condition.
Other tests may include:
Chest X-rays
Genetic tests
Lung function tests
Prenatal genetic tests
These can be used if a patient shows signs of having the condition. Signs may include shortness of breath, digestion problems, and vitamin and mineral deficiencies.
Cystic Fibrosis Misdiagnosis
Doctors have a duty of care to correctly diagnose a disease, especially one as serious as cystic fibrosis. Too often, they will mistake symptoms and diagnose another condition, such as:
Asthma
Malnutrition
Pneumonia
Pancreatitis
Respiratory infection
Unfortunately, if not diagnosed properly, the patient can be at risk of developing a more advanced case of the disease.
The Implications and Your Rights
Failure to identify the right condition and the subsequent delayed treatment may affect you in many ways. The delay may, unfortunately, reduce your life expectancy and result in pain, suffering and financial difficulty.
In addition, you may also suffer additional expenditures for doctor's bills, hospital visits and the cost of medications. If it can be proved that the pain, inconvenience and expenses were a direct result of the cystic fibrosis not being diagnosed properly, you may be entitled to claim compensation.
How to claim
If you believe that you have a claim, then it is advisable to get in touch with a solicitor who specialises in misdiagnosis. Compensation may be payable if negligence can be proven.
First Personal Injury Lawyers have a team of no win no fee solicitors who are experts in dealing with all types of misdiagnosis claims. This includes cases where cystic fibrosis has been misdiagnosed as asthma.
On behalf of our clients we can issue claims for past and future losses, taking into account pain and suffering, loss of earnings, need for specialist support and physical disabilities.
We understand the difficult circumstances that can come with making a claim whilst dealing with the physical and emotional stress of your injury. Consequently, our team will guide you through the legal process as quickly and simply as possible whilst getting you the result you deserve.
Contact First Personal Injury to discuss your claim today on 0800 808 9740 or, alternatively, fill out our online form.