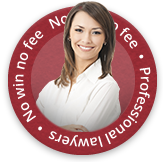 First Personal Injury Solicitors specialise in helping people who have had a hip fracture which has been misdiagnosed.
If you believe there has been negligence in your diagnosis or treatment, we may be able to help you make a claim for compensation.
Our team are on hand to assist wherever you are based and we can provide advice on all aspects of clinical and medical negligence claims.
A fracture is an injury to any bone in the body, where the structure of the bone has been broken. There are many types of fracture, and it is vital that any fracture is diagnosed correctly in order to receive the correct treatment. If a fracture is left untreated, there can be complications.
If you have suffered a hip injury that was missed or misdiagnosed by a medical professional, or you underwent hip surgery and errors were made during the operation, you may be able to claim compensation.
Free initial discussion
For a no-obligation initial discussion about your circumstances and to find out whether you have a claim, please feel free to call us on 0800 808 9740 or get in touch online.
Misdiagnosis
Misdiagnosis of a hip fracture occurs when a patient goes to their doctor or a hospital following an injury and a medical professional fails to notice or diagnose that you have fractured your hip bone. If a fracture is untreated there can be severe consequences further down the line. Medical professionals have a duty of care to record the history of your accident. They should also carefully review your x-rays to ensure that you are appropriately treated. They may also ask you to return for another check-up within 7 to 14 days.
Hip fracture treatment & surgical errors
You may require a hip operation to repair or improve your mobility. There are various reasons why you may require surgery, including:
Arthritis
Congenital abnormalities
Injury, such as a broken hip from a fall
Wear and tear of the hip joint over time
The intended result of surgery is to improve quality of life for the patient. However, in some circumstances, mistakes are made during the procedure or diagnosis that can have the opposite effect. Instead of improving the patient's quality of life, it can result in increased unnecessary suffering.
If you have suffered an injury caused by the misdiagnosis of a hip fracture, making a claim can help you secure the compensation you deserve.
How to claim
If you believe that you have a claim, you should contact a medical negligence lawyer as soon as possible. Compensation may be payable if negligent treatment can be proven.
First Personal Injury Lawyers have a team of no win no fee solicitors who are experienced in all types of misdiagnosis claims. On behalf of our clients, we can issue claims for past and future losses. We will take into account your pain and suffering, loss of earnings, any need for specialist support and physical disabilities.
We understand the difficult circumstances involved in making a claim whilst dealing with the physical and emotional stress of your injury. Our team will guide you through each step of the legal process whilst getting you the result you deserve.
Contact First Personal Injury to discuss your claim today on 0800 808 9740 or, alternatively, fill out our online form.