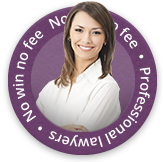 As in any contact sport, you may expect injuries to happen as a normal part of participating in rugby. However, sometimes players sustain an injury due to the negligence of another person. We may be able to help you claim for compensation if you or a loved one has become injured on the rugby pitch.
Our team of specialists are here to walk you through the rugby injury claims process. Give us a ring on 0800 808 9740 today or contact us via our website.
Types of rugby injuries
Rugby players are susceptible to various injuries. These extend from head wounds to minor bruising or sprains. There is also the possibility of injuries to the shoulder, neck and other limbs.
Rugby concussion claims
Rugby involves a lot of physical contact and body clashes between players which therefore increases the risk of accidental head effects. This essentially means that rugby players are at risk of concussion at all times throughout the game. Concussion is the most prevalent injury amongst English rugby union players.
The adverse effects of concussion can include:
Confusion and/or forgetfulness
Being unsteady on the feet
A headache following the incident
Moving or reacting slowly
Vomiting or nausea following the incident
Anyone who has suffered a blow to the head on the rugby pitch should be closely supervised and treated if they show any of the aforementioned symptoms.
Players who have not been treated correctly or returned to rugby too soon after their injury may experience long-term injuries to the brain associated with concussion. In such instances, the player may make a claim for rugby injury compensation.
Rugby injury causes
Because of the nature of the game, most rugby accidents happen with players playing within the regulations. In these instances, it is generally, not possible to claim compensation.
However, if the behaviour of a player is outside that allowed by the game rules, and this causes injury to another player, legal action can be taken. If you or a loved one have been involved in a situation such as this you should talk to an experienced solicitor to make a personal injury claim.
There are multiple situations in which injuries can arise, including:
School rugby accidents
Rugby is a popular sport in many colleges and it's not unusual for accidents to occur. However, if your child has been wounded in the game it will only be feasible to claim in certain situations.
For example, you might be able to claim for negligence if your child played on an artificial pitch that wasn't correctly maintained and this directly led to them to falling and getting injured during the match.
Moreover, to prevent accidents, P.E teachers and rugby coaches should be trained to a safe standard. They have a responsibility to monitor kids to ensure that the game is played safely and according to the rules. Lack of supervision can lead to dangerous play which can, in turn, lead to accidents.
Also essential is the age of the injured child. Younger children are less conscious of their actions so they should be monitored more carefully. If your child is wounded on the rugby pitch you should talk to a lawyer who can advise you on your prospective claim.
Making a rugby injury claim
Rugby players impacted by serious spinal or head injuries may find that this has a devastating effect on their careers and general wellbeing.
Pursuing a claim for compensation can help to relieve the financial stress associated with recovering from such an injury. This is especially relevant if an individual is unable to work or play professionally because of their injury. Ultimately, your claim will compensate you for the injury you have encountered as a result of third party negligence. Moreover, we can help you to cover further costs such as medical treatment, care/therapy and loss of earnings.
Making a rugby injury compensation claim with First Personal Injury
Our team of expert personal injury solicitors are waiting to help with your claim today. Call us on 0800 808 9740 or get in touch via our website.