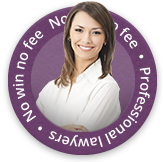 Our personal injury solicitors are capable of guiding you through the personal injury claims process clearly and honestly. We aim to keep things as straight forward as possible while always keep you updated about the progress of your accident claim.
Many accidents are not the result of someone else's mistake or fault. However, there are times when your accident could have been prevented and there is a party who is at fault for it. Our personal injury solicitors will work hard to ensure you get the compensation you are legally entitled to if you have suffered in this way.
First Personal Injury has expertise in an array of different types of personal injury cases:

Very caring, professional and efficient solicitors. Would highly recommend.
Sharon from Wigan
See more testimonials
Accidents at work
Medical negligence cases
Accidents in public places
Road traffic accidents
These are just a few example areas in which your accident could have happened, there are many more different claims our personal injury solicitors see every day. One of the most important parts of making a claim is being able to clearly demonstrate the reason for your injury is the fault of someone else.
Why Use Personal Injury Solicitors?
The role of a personal injury solicitor is to use his/her legal expertise on your behalf to get you the compensation you are entitled to.
Our personal injury solicitors will firstly listen to you to understand more about the details of your potential claim. We will use this as an opportunity to see how successful your claim will be and in some cases you may be offered a *no win no fee case.
When we know more information about your case, our personal injury solicitors will be able to advise you in more detail of how much compensation you can expect from your claim.