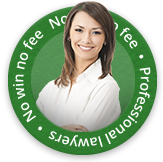 Considering Making A Claim Following An Accident At Work?
If your eyes have been injured in a work-related accident, we may be able to help you win compensation.  Contact our team of highly experienced accident claims lawyers today to discuss in confidence.
Call us today on 0800 808 9740 or get in touch online to arrange a call-back from a friendly member of our team.
Eye Injuries In The Workplace
Accidents involving the eyes can have potentially sight-threatening consequences.  There are two main workplace hazards that are a potential threat to eyesight.
Computer use
While using a computer does not generally cause permanent eye damage there are important safety issues which should be taken into consideration by employers. It is not the screen directly that is likely to cause personal injury to the eyes, but factors such as bad posture, bad lighting or dry eyes leading to eye strain.
Employers should encourage their staff to take frequent screen breaks to rest tired eyes. This can help to prevent headaches. They should also ensure that there is adequate lighting for the task and that the glare from the screen is kept to a minimum. Employees should wear glasses if required.
Chemicals and industrial machinery
The second risk to the eyes is potentially more serious and occurs when using chemicals of industrial machinery. Industrial work presents a potential danger to the eyes particularly for people who are operating any sort of pressing or grinding equipment. It is essential that the correct eye protection is worn and it is the responsibility of the employer to provide this.
When using a welding torch it is always necessary to wear a welding mask. The intense bright light of a welding torch can cause lasting damage to the retina and cornea.
Workers should handle chemicals using the manufacturer's specific guidelines or on site-specific instructions.  This will often mean the use of safety goggles to avoid potentially harmful splashes to the eye.  Even if you are observing the task you should always wear the same eye protection as the worker carrying out the task.
Your Employers Duty of Care
Compensation claims for loss of eyesight can be huge it, therefore, makes sense on the part of the employer to ensure that risk assessments are carried out and then adhered to.  If your eyesight has been damaged at work and through no fault of your own you may be entitled to make a personal injury claim and should first consult an experienced Personal injury lawyer.
Injured In An Accident At Work?
If you have been injured in an accident at work, you may be able to make a claim for compensation. Contact our personal injury lawyers to find out about making an injury claim. Call us on the telephone number above or fill out our online claim form to speak to us today. We usually work on a no win no fee basis.