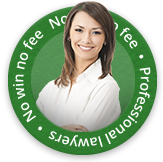 Falling object claims can arise from a number of different scenarios. A lot of them come as a result of activity in the workplace, although this type of accident can also occur in other environments.
Types Of Falling Object Accidents
A few examples of common incidents that result in falling object claims are below:
Luggage falling from a holdall
Products falling from shelves in a warehouse
Unstable signs falling down
Guttering falling
Light fittings becoming loose
Falling equipment e.g. tools
Falling debris like concrete, glass or bricks

Excellent service. Thank you all. I'm really glad I chose you to handle my case.
Mrs W from Reading, Berkshire
See more testimonials
Injuries Sustained In Falling Object Claims
There are a number of ways in which you could be injured by falling objects. However, some injuries are more common than others, these include:
Head injuries
Back injuries
Fatal injuries
Collarbone and neck injuries
Broken bones in arms and legs
Foot and hand injuries
Falling Objects At Work
Falling object injuries account for a large majority of accidents possible in the workplace. Some sectors pose a greater risk than others. For example, construction, building sites and factory environments are all areas where dangers are more prevalent.
How A Falling Object Injury Can Affect You
If you have suffered an injury through the neglect of your employer or a third party, it's possible that you could claim compensation.
People who pursue falling object claims often need assistance with a range of conditions and injuries caused by their accident. In addition, some injuries have long-term consequences like disability, prolonged ill-health, psychological stress and even paralysis.
If you have encountered a loss of earnings because of your injury, you could claim this money back. You could also be reimbursed for the money you have spent on medical expenses or care you have needed.
Making a Falling Object Claim With First Personal Injury Solicitors
First Personal Injury can help you with your claim if you have been injured at work or in another place because of a falling object. Our team of injury lawyers can provide you with an indication of how much compensation you can expect.
Contact our team today to find out about claiming compensation on the telephone number above. Alternatively, fill out our claim online form and one of our team will come back to you to discuss your circumstances.
You have 3 years from the date of knowledge of your injuries to make a claim so please get in touch as soon as possible. We can also discuss with you the option of taking on your accident claim on a no win, no fee basis*. Please call us on 0800 808 9740 for more information.