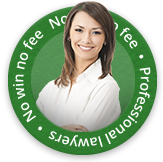 Claiming Compensation Following A Fall From A Ladder At Work
Falling from a ladder is one of the main kinds of falling from height claims and unfortunately, many of these kinds of accidents can end in serious injury or even death. If you have fallen from a ladder while at work and the accident was the fault of your employer then you may be able to make a claim.
For more information and a no-obligation conversation about your accident, call our expert solicitors on 0800 808 9740 or get in touch with us online.
Am I At Risk Of Falling From A Ladder?
There is always a risk of falling if you are up a ladder, whether you are carrying out jobs in the home or at work. The nature of many jobs and industries require the regular use of ladders and both employers and employees should take reasonable steps to make sure safety is made a priority.
Roofers, builders, scaffolders, labourers or anyone working within the construction or trades industry who has a requirement to use ladders in their job is at a heightened risk of injury.
Employer's Responsibility
Your employer has a duty to protect you from any dangers in the working environment. Employees should be given the correct training and correct risk assessments should be undertaken at the correct intervals by your employer. If there is a change to your process of working, new risk assessments should be carried out to correctly assess any new dangers presented when using ladders.
The Work At Height Regulations 2005 is legislation set out by the Health and Safety Executive and all employers who require their staff to use ladders must comply with it. Failure by your employer to adhere to any appropriate HSE regulations means it is possible that your employer has been negligent and you may be able to make an accident at work claim.
Reasons For Ladder Falls

I have today received the cheque for £11,500 for which together with the other monies obtained by you on my behalf I shall be eternally grateful. Please accept my sincere thanks for all you have achieved for me in what has been a very trying time. You have taken a lot of the stress out of what has been very stressful for me by your very professional approach. Best regards to you for the future and our heartfelt thanks.
Anonymous from
See more testimonials
There are many reasons why an employee may have ended up suffering an injury by falling off ladders. In some instances, the ladders may not be suitable for the job you are doing; the ladders may be broken or not well maintained; there could be no gripping or anti-slip materials on the steps of the ladder; you may have been carrying tools while climbing the ladders; the resting place of the ladders may be unstable and it is also possible that you were not given correct training.
In all falls from ladder claims, it must be clear that the fault of the accident was down to your employer. You should always report any potential dangers in the workplace to your employer as soon as you see them.
Falls From Ladders Claims For Compensation
If you have fallen from a ladder then you could be able to claim compensation if the accident was not your fault. Your injuries from your ladder fall could be such that it has left you unable to go back to work; in significant pain; paying for medical expenses or any combination of these.
You have a right to make a claim if it can be proven your employer was at fault for your injury; First Personal Injury lawyers are no win, no fee solicitors who are able to help with fall from ladder claims. Please get in touch with our knowledgeable and helpful team today on 0800 808 9740.
Other Claims For Accidents In Work
Here at First Personal Injury, we deal with a wide range of accident at work claims, some of which are listed below. If you have been injured in the workplace from some other type of occurrence, please do not hesitate to contact us anyway, as we may be able to help and advise regarding your claim for compensation.
Make An Accident Compensation Claim
If you or someone you know has been in an accident they may be entitled to injury compensation. Our expert personal injury lawyers are able to help with your potential accident compensation claims.
Get in touch by calling 0800 808 9740 or by filling out our online form.